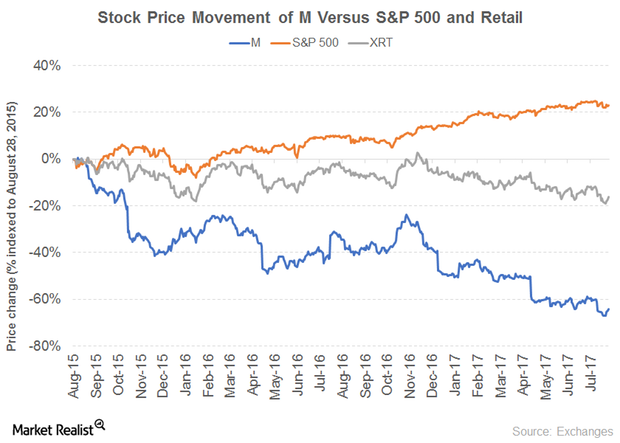 What's behind Macy's Rising Dividend Yield
The story behind Macy's attractive yield
Macy's (M) operates Macy's and Bloomingdale's stores. The company's sales fell between 2013 and 2016. Revenue fell 5% in 2016, compared with 4% in 2015. Online shopping and discount stores have wreaked havoc on brick-and-mortar stores, leading to store closures. Narrowing gross margins and rising impairments, store closing costs, and settlement costs dragged down Macy's 2016 operating income and EPS (earnings per share). Its operating income fell 27% and 36% in 2015 and 2016, respectively.
Article continues below advertisement
A look at Macy's earnings per share
Macy's EPS fell 24% and 38%, respectively, in 2015 and 2016. Macy's heavy reliance on discounts, advertisements, and dispatching online orders is eating at its margins. Its free cash flow has fallen due to an operating cash flow decline. Macy's had a debt-equity ratio of 1.5x in 2016. Whereas its stock generated positive returns in 2016, it was outperformed by the department store industry and the S&P 500.
Decoding the high dividend yield
In 1H17, Macy's revenue fell 6.4%. Lower operating costs and interest expenses and the sale of assets boosted its operating income by 21% and its EPS by 49%, despite a decline in sales.
Macy's falling stock price supported its dividend yield. The iShares Core Dividend Growth ETF (DGRO) offers a dividend yield of 2.1%, at a PE (price-to-earnings) ratio of 20.6x. The ETF has a 2% exposure to small-cap stocks. The First Trust STOXX European Select Dividend Index ETF (FDD) has almost full exposure to Europe and a substantial stake in financials. It offers a dividend yield 3.3%, at a PE ratio of 14.5x. The ETF has a 12% exposure to small caps.