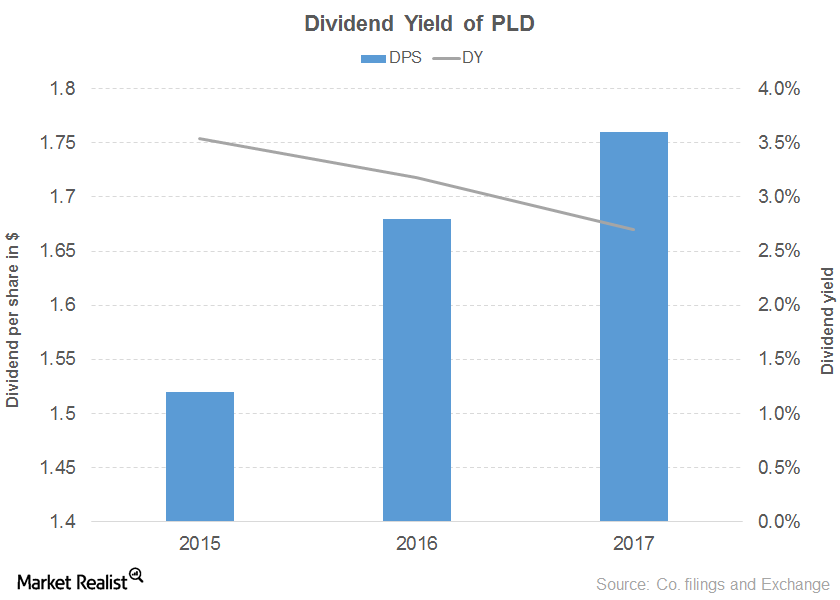 Why Prologis Has a Downward Sloping Dividend Yield Curve
A look at Prologis's revenue and earnings
Let's take a look now at Prologis (PLD), an international investor in real estate markets. It recorded a 15.0% rise in revenue in 2016 compared to 25.0% in 2015. Real estate in the United States recorded growth in 2015, offset by real estate in other Americas, Europe, and Asia. Strategic capital in other Americas and Europe recorded growth, offset by strategic capital in the United States and Asia. In 2016, real estate in every region recorded growth. Strategic capital in every region also recorded growth in 2016 except the United States, which had flat growth. Operating income rose 76.0% in 2016 compared to 19.0% in 2015, despite higher expenses. Diluted EPS (earnings per share) rose 38.0% in 2016 compared to 32.0% in 2015. EPS was also enhanced by lower interest expenses, higher earnings from unconsolidated entities, gains on asset dispositions, and foreign currency gains.
Article continues below advertisement
Prologis has noted a 15.0% rise in revenue in the first half of 2017, driven by every segment. Operating income rose 61.0% despite higher expenses. Diluted EPS, however, fell 4.0% due to lower gains on asset disposition, higher foreign currency losses, and a loss on debt extinguishment, offset by lower interest expenses and higher income from unconsolidated entities. The company has successfully increased its funds from operations over the years.
Prologis's dividend trajectory
Prologis's downward trajectory of its dividend yield curve despite the dividend increase is mainly due to price gains, as you can see in the chart below. The company hasn't allowed the dividend yield to fall below the $2.5% mark yet.
Let's look at two dividend ETFs with exposure to Prologis. The WisdomTree Global Equity Income ETF (DEW) offers a 3.3% dividend yield at a PE (price-to-earnings) multiple of 17.5x. It has a 21.0% exposure to financials. The WisdomTree Equity Income ETF (DHS) offers a 3.1% dividend yield at a PE multiple of 21x. The ETF has a 17.0% exposure to consumer non-cyclical.