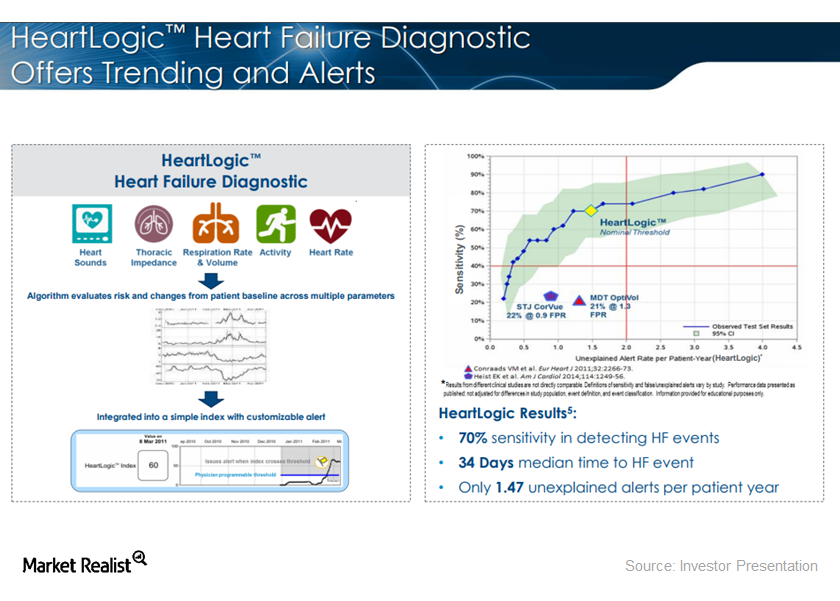 New Data Confirms the Efficiency of BSX's HeartLogic Diagnostic
New data results
On September 19, 2017, Boston Scientific announced new data from its MultiSENSE (Multisensor Chronic Evaluation in Ambulatory Heart Failure Patients) study. The study results were announced at the Heart Failure Society of America's 21st Annual Scientific Meeting.
The new trial data showed that the identification of patients at a higher risk of a heart failure event using baseline blood test is significantly expanded by HeartLogic Diagnostic.
According to Boston Scientific, "The combination of the HeartLogic Diagnostic with a baseline NT-proBNP measurement accurately identified when patients within varying risk groups were at a 23 to 50 times increased risk of experiencing a HF event."
Article continues below advertisement
Study details
The MultiSENSE study was conducted to evaluate the HeartLogic Diagnostic's performance for the prediction of impending HF (heart failure) decomposition. The study was conducted at the Penn State College of Medicine and comprised 900 patients who were followed for up to a year.
According to Boston Scientific, "The HeartLogic Diagnostic provides continuous measurement of a patient's heart failure by combining data from sensors evaluating heart sounds, respiration rate and volume, thoracic impedance, heart rate and activity.
"Current clinical guidelines recommend the use of a blood test to measure natriuretic peptides BNP or NT-proBNP in order to diagnose HF or determine disease severity. However, the test can only reflect a snapshot assessment at the time of a blood draw, which loses relevance as a patient's condition changes."
Boston Scientific had also published the study data of the MultiSENSE study in November 2016, which demonstrated ~70% accuracy of the HeartLogic Diagnostic's advance alert capability with respect to the patient's likely heart failure event.
Boston Scientific's competitors in the US heart failure management market include Medtronic (MDT), Abbott Laboratories (ABT), and Edwards Lifesciences (EW). Investors can consider investing in the iShares S&P 500 Growth ETF (IVW) for exposure to Boston Scientific. BSX accounts for ~0.33% of IVW's total holdings.