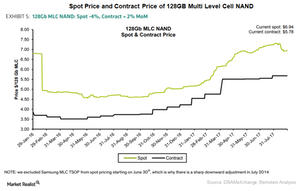 Micron's Strategy in the NAND Market
Micron and NAND
Micron Technology (MU) is working toward closing the technology gap in the DRAM (dynamic random access memory) market. On the other hand, it has taken a lead in the 3D NAND (negative AND) technology by starting the transition to 3D technology earlier than other industry players.
NAND is used to store data. As data storage needs increase, more enterprises are adopting Flash SSDs (solid-state drives) instead of HDDs (hard disk drives). According to a report by Digitimes, ChinaFlashMarket research estimates that the NAND flash market could grow from $40 billion in 2017 to $65 billion by 2020, with 43% of the revenues coming from SSDs.
Micron is looking to tap this growth opportunity and hired Sanjay Mehrotra, former chief executive of the third-largest NAND maker, SanDisk, as its new CEO. Micron is selling Lexar, its flash storage retail brand, to Shenzhen Longsys Electronics to focus on enterprise SSDs.
Article continues below advertisement
NAND pricing
NAND contract prices have been growing alongside NAND spot prices since October 2016. NAND contract prices rose significantly in March 2017 as spot prices grew faster than contract prices.
This trend encouraged customers to enter longer contracts in order to lock in prices, which widened the gap between the spot and contract prices in June and July 2017. This pricing growth is likely to ease in 2H17 as many NAND makers bring their 3D NAND output to the market.
Micron's NAND output 
Micron expects the NAND industry supply to grow 30%–40%, with its NAND supply expected to grow at the higher end of the industry supply range.
At the Citi 2017 Global Technology Conference, Micron's CFO, Ernie Maddock, stated that the company would start producing "meaningful output" from its second-generation 64-layer 3D NAND by the end of fiscal 2017. This would see fiscal 2H17 NAND bit output exceed its fiscal 1H17 output by ~30%.
The 64-layer 3D NAND would form a major portion of the company's NAND production in 1H18. Later in 2018, the company expects to transition to its third-generation 3D NAND, which would boost its 3D NAND output in fiscal 2H18.
Micron did not reveal how many layers its third-generation 3D NAND would have, but most industry players have third-generation 3D NAND with 96 layers. The transition to 3D NAND results in loss of some capacity as the number of processes increases. Despite this, Micron's 3D NAND yield is believed to be higher than that of SK Hynix, Toshiba (TOSBF)/Western Digital (WDC), and Samsung (SSNLF).
Despite strong investment in the NAND market, the supply conditions could remain tight due to increasing adoption of SSD by enterprises.
The continued strength in the memory market had made analysts optimistic about Micron. Next, we will look at analysts' views on the company.