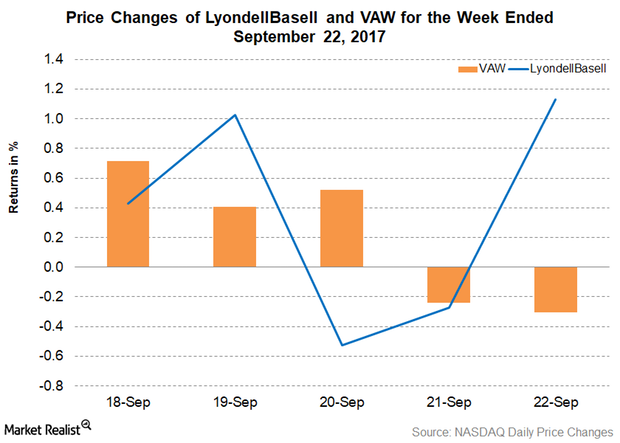 LyondellBasell Starts Polypropylene Production at Dalian, China
LyondellBasell expands in China
On September 21, 2017, LyondellBasell (LYB) announced that it has started manufacturing polypropylene (or PP) from its production facility in Dalian, China. The plant has the capacity to produce 20 kilotonnes per year of PP. With the addition of this plant, LYB continues to be the largest producer of PP in the world. The plant will cater to the growing automotive market in the region.
The plant will further strengthen LYB's position in China. Bob Patel, LYB's chief executive officer, said, " With China's automobile market poised for significant growth over the next several years this facility allows us to better serve our customers, reduce shipping time and logistics costs while delivering a strong return for our shareholders.This plant leverages our global value chain, from polypropylene technology to specialized compounded products, for the benefit of our customers in the region."
Article continues below advertisement
LyondellBasell ended positively last week
LyondellBasell closed the week ended September 22, 2017, on a positive note with a gain of 1.8% and closed at $96.87. That widened the 100-day moving average gap. LYB was trading 12.7% above the 100-day moving average price of $85.96, indicating a bullishness in the stock. LYB has recovered well from the negative return position to positive returns in a span of two months. So far in 2017, LYB has risen 11.5%. The stock is already trading above the suggested analysts' target price of $96. However, LYB's 14-day relative strength index of 74 indicates that the stock has moved into an overbought situation temporarily and could see some selling pressure.
Investors can invest in the Vanguard Materials ETF (VAW) to hold LYB indirectly. The fund has invested 3.7% of its portfolio in LyondellBasell. The other holdings of the fund include Albemarle (ALB), Sherwin-Williams (SHW), and Eastman Chemical (EMN) with weights of 1.7%, 3.3%, and 1.4%, respectively, as of September 22, 2017.