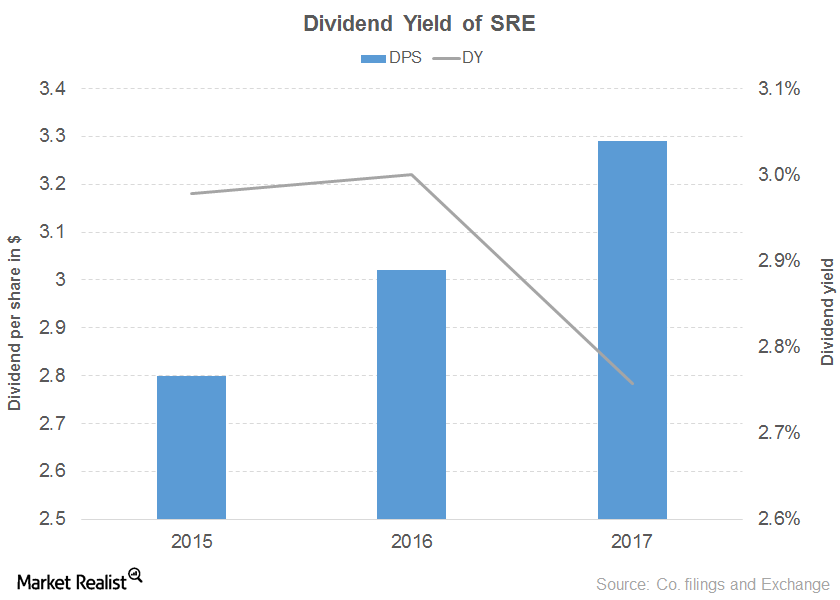 What Led to Sempra Energy's Sharp Fall in Dividend Yield?
Sempra Energy's revenue and earnings
In this part of the series, we'll look at Sempra Energy (SRE), a natural gas utilities holding company involved in global energy. It recorded flat revenue growth in 2016 after a 7.0% fall in 2015. The fall was driven by SDG&E, SoCalGas, Sempra Mexico, and Sempra LNG & Midstream, offset by Sempra South American Utilities and Sempra Renewables. In 2016, SDG&E, SoCalGas, and Sempra South American Utilities had flat growth. Sempra Mexico had growth offset by Sempra Renewables and Sempra LNG & Midstream. Operating income fell 15.0% in 2016 after a 7.0% growth in 2015. Lower energy costs, which had helped offset lower energy revenue in 2015, increased in 2016, thus leading to the decline. As a result, diluted EPS (earnings per share) rose 2.0% in 2016 compared to 16.0% in 2015. EPS for 2016 was also affected by higher impairment losses, offset by a gain on the sale of assets, while interest expense remained uniform.
Sempra Energy's revenue for the first half of 2017 rose 7.0%, driven by every segment. Operating income more than doubled as the margins helped offset rising costs. Diluted EPS rose 88.0% despite higher interest expense and impairment losses.
Article continues below advertisement
Sempra Energy's dividend trajectory
The sharp downward slope of Sempra Energy's dividend yield curve since 2016 has been due to rising prices, which have offset the impact of the dividend increase, as you can see in the price chart below. The company still has been able to currently record a dividend yield of more than 2.5%.
Let's look at two dividend ETFs with exposure to Sempra Energy. The First Trust Value Line Dividend ETF (FVD) offers a 2.0% dividend yield at a PE (price-to-earnings) multiple of 20.4x. It has a 22.0% exposure to utilities. The iShares Core Dividend Growth ETF (DGRO) offers a 2.1% dividend yield at a PE multiple of 20.6x. It has an 18.0% and 17.0% exposure to technology and healthcare, respectively.