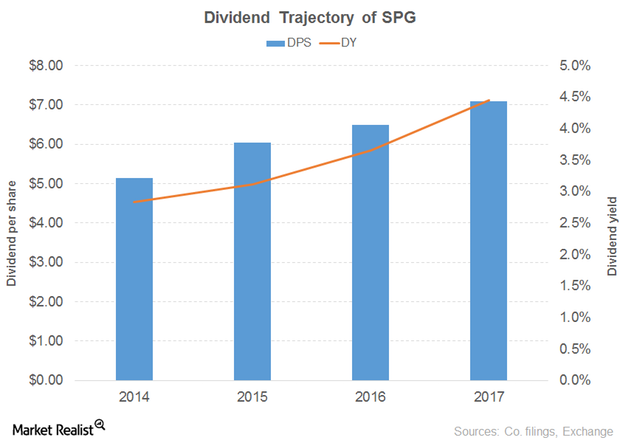 What's Boosted Simon Property Group's Dividend Yield
Revenue and earnings
In this part, we'll look at Simon Property Group (SPG). Engaged in real estate investment around the world, this retail REIT saw its revenue growth slow from 8% in 2015 to 3% in 2016. Whereas its minimum rent has risen since 2014, its overage rent, tenant reimbursements, and management fees fell in 2016.
Simon Property Group's operating expenses rose 4%–5% in 2015 and 2016, while its interest expenses fell 7%. Its EPS (earnings per share) grew 30% in 2015, and were flat in 2016 due to a higher debt extinguishment loss and a lower gain on the disposition of assets. The company has generated positive FFO (funds from operations) since 2014, in addition to recording growth.
Article continues below advertisement
Revenue and EPS in 1H17
Simon Property Group's revenue grew 2% in 1H17, driven by minimum rent and tenant reimbursements. Its operating expenses rose 3%, and its interest expense fell 6%. A loss on debt extinguishment and a lower gain on the disposition of assets translated into a 9% fall in its EPS. The company's FFO fell 2%.
Dividend
The company's dividend rose between 2015 and 2016, as well as between 1H16 and 1H17.
Stock price
The WisdomTree International Hedged Quality Dividend Growth ETF (IHDG) offers a dividend yield of 1.4%, at a PE (price-to-earnings) ratio of 19.7x. It has major exposure to Europe, a 20% exposure to both the consumer cyclical and non-cyclical spaces, and a 3% exposure to both financials and real estate. The WisdomTree US SmallCap Dividend ETF (DES) offers a 3% dividend yield, at a PE ratio of 20.7x. It has a 19%, 15%, 10%, and 4% exposure to the consumer cyclical, real estate, financial, and consumer non-cyclical spaces, respectively.