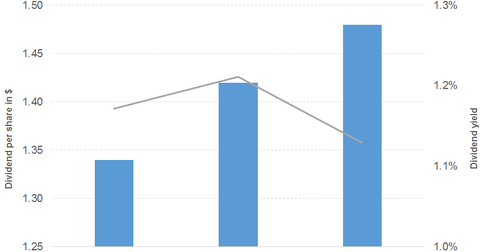 What Led to the Downward Slope of Ecolab's Dividend Yield Curve?
By Amanda Lawrence

Updated
A look at Ecolab's revenue and earnings
In this part of the series, we'll look at Ecolab (ECL), a worldwide supplier of water, hygiene, and energy technologies and services. It recorded a 3.0% fall in its 2016 net sales compared to 5.0% in 2015. The falls were mainly driven by global energy, offset by the global industrial and global institutional segments. Growth for the global institutional segment slowed down in 2016 compared to 2015. Operating income recorded a 23.0% growth in 2016 after falling 20.0% in 2015. That was driven by the improvement in revenue and lower operating expenses. Diluted EPS (earnings per share) rise 25.0% in 2016 after falling 16.0% in 2015, despite rising interest expenses in 2016 after a fall in 2015. EPS growth was also supported by share buybacks.
Article continues below advertisement
Ecolab's net sales for the first half of 2017 rose 3.0%, driven by every segment. Operating income had a 4.0% growth despite higher operating expenses. Diluted EPS recorded a 14.0% growth driven by lower interest expenses and share buybacks. The company has managed to increase its free cash flow balance over the years.
Ecolab's dividend trajectory
The downward shift in dividend yield since 2016 has been driven by rising prices, offsetting the effect of the dividend increase, as we can see in the price chart below.
Let's look at two dividend ETFs with exposure to Ecolab. The Vanguard Dividend Appreciation ETF (VIG) offers a 2.0% dividend yield at a PE (price-to-earnings) multiple of 23.5x. It has a 28.0% exposure to industrials. The ProShares S&P 500 Aristocrats (NOBL) offers a 1.9% dividend yield at a PE multiple of 21x. It has a 26.0% exposure to consumer non-cyclical.