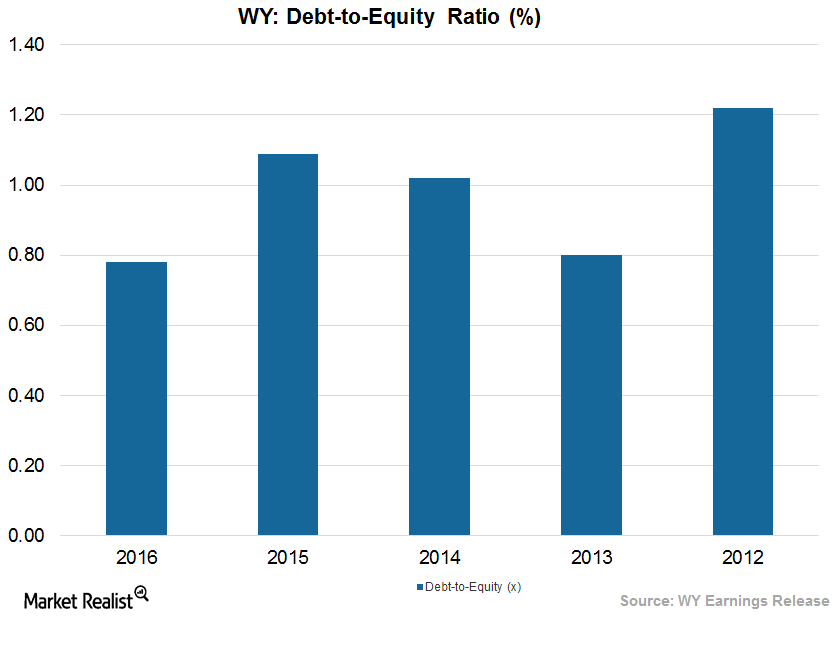 Is Weyerhaeuser Maintaining a Strong Balance Sheet?
Why debt matters
REITs (real estate investment trusts) depend mostly on debt for their day-to-day functioning and working capital. They regularly carry out expansionary activities in order to maintain profitability.
However, too much dependence on debt comes with the danger of increasing interest expenses among REITs, and rising debt levels can push REITs into liquidation, which can be fatal for companies.
Article continues below advertisement
Debt-to-equity ratio
Weyerhaeuser maintained a DE (debt-to-equity) ratio of 0.78x in 2Q17, which is lower than the industry mean of 1.05x. In 1Q17, WY was able to maintain a DE ratio of 0.78x.
Weyerhaeuser ended 2Q17 with cash and cash equivalents of $701 million, or $246 million higher than in 1Q17. Its cash generated from operations stood at $489 million, or $454 million higher sequentially.
In 2Q17, WY incurred capital expenditures of $87 million. It expects to incur capital expenditures of $435 million for fiscal 2017, and this includes $300 million for its Wood Products segment and $135 million for its Timberlands segment.
Refinancing activities to improve balance sheet
WY's total debt as of 2Q17 stood at $6.6 billion. It paid back $550 million in term debt scheduled to mature in 2020. It replaced the loan with a new $225 million term loan that has a longer maturity date of 2026. The company plans to prepay $325 million in cash.
WY also repaid a bond worth $281 million in Aug 2017, carrying an interest rate of 6.95%. The repayment reduced interest expense by ~$20 million annually.
Notably, WY, RYN, and IP make up ~20% of the iShares Global Timber & Forestry ETF (WOOD).