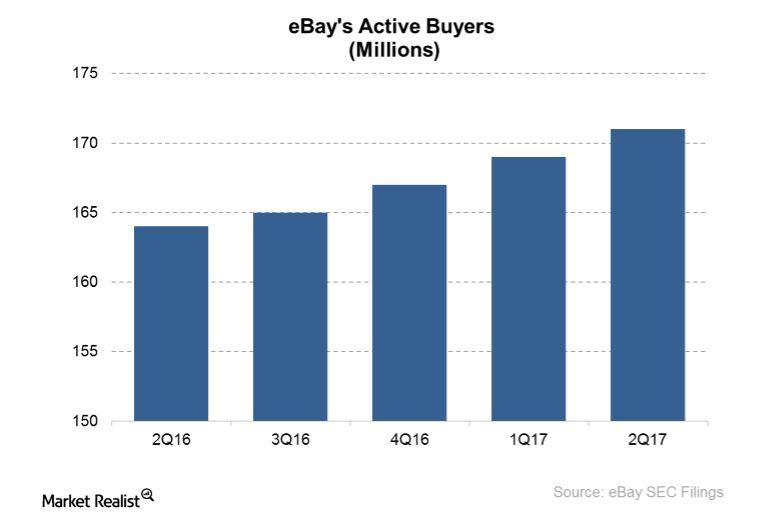 Is eBay's Active Buyer Base Expanding?
Active buyers increase 4%
For marketplace operators like eBay (EBAY), Amazon (AMZN), and Alibaba (BABA), the number of active buyers is a closely watched metric. Investors can study customer base trends to assess a company's prospects.
At the end of 2Q17, eBay had 171 million active buyers. The company describes an active buyer as one who successfully closed a transaction on its platform within the trailing 12 months. An eBay buyer can manage more than one account. The active buyer count of 171 million that eBay reported for 2Q17 implies that its active buyer base expanded 4.0% year-over-year.
Article continues below advertisement
Customer base growth drives more sales
The chart above illustrates the growth of eBay's active buyer base over the last five quarters. A large active buyer base is desirable because it leads to more sales. For 2Q17, the 4.0% increase in eBay's active buyer count yielded a 3.0% increase in gross sales and a 4.0% increase in revenues.
eBay has recently accelerated its efforts to modernize its platform to improve the customer experience and draw more buyers and sellers to its platforms.
Advertising sales
In addition to driving more product sales, a large customer base also expands fee and advertising revenue opportunities. eBay earns fee revenues through its online ticket marketing platform, StubHub, a competitor of Live Nation's (LYV) Ticketmaster.
A large user base also expands the opportunity to attract more ad spending. e-Commerce operators like eBay, Amazon, Alibaba, and JD.com (JD) generate a substantial portion of their revenues from providing online marketing services to their merchant customers.