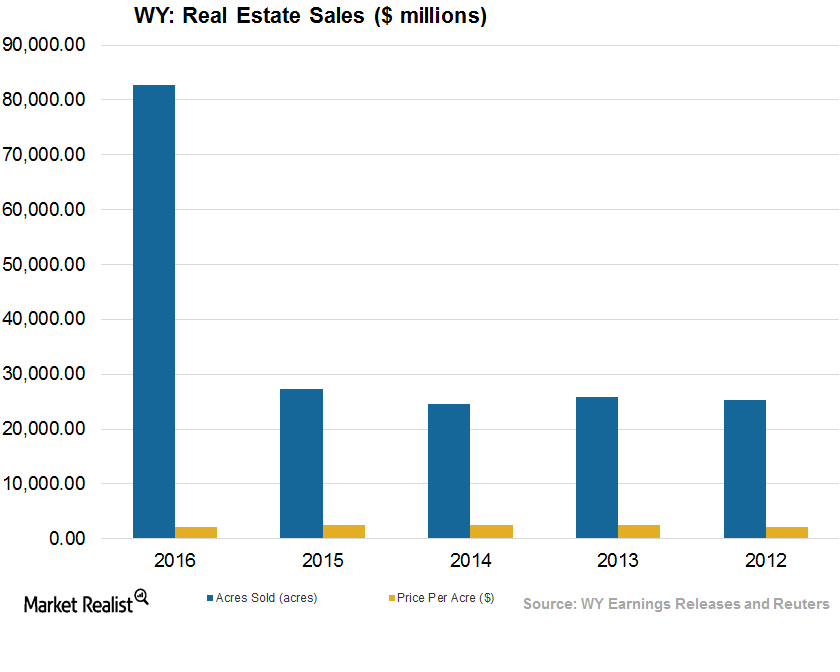 Inside the Weyerhaeuser-Plum Creek Merger
By Jennifer Mathews

Sep. 11 2017, Updated 10:37 a.m. ET
Weyerhaeuser continues growth momentum
Timberland REIT (real estate investment trust) Weyerhaeuser (WY) owns almost 13.1 million acres of timberlands across the US. It also manages timberlands under long-term licenses in Canada.
Meanwhile, WY has undertaken several expansionary activities in order to maintain leadership in the industry.
In 2Q17, WY incurred capital expenditures of $87 million. It expects to incur capital expenditures of $435 million in fiscal 2017, including a capital expenditure worth $300 million in its Wood Products segment and $135 million for its Timberlands segment.
Article continues below advertisement
A landmark merger with Plum Creek
In 2016, Plum Creek Timber merged into Weyerhaeuser, with Weyerhaeuser continuing as the surviving company, in a deal worth $10 billion. The new business resulting from the merger helped WY maximize value in its Timberlands segment by identifying lands that hold a premium value over the others.
The merger with Plum Creek also helped Weyerhaeuser tap the benefits of the improving housing market and should provide the company with the required expertise to develop and offer high-quality products and services to its customers. The deal also improved WY's cash position and strengthened its balance sheet.
The Plum Creek business has successfully been integrated and has contributed to an increase in lumber, engineered products, and plywood in 2016. The merger also contributed to log sales volume gains in 2Q17.
Notably, the growing US economy has positively impacted REITs like Weyerhaeuser, Rayonier (RYN), Resolute Forests Products (RFP), and International Paper (IP). WY, RYN, and IP make up ~20% of the iShares Global Timber & Forestry ETF (WOOD), which consists of 25 of the leading publicly traded companies engaged in the ownership and management of forests and timberland.