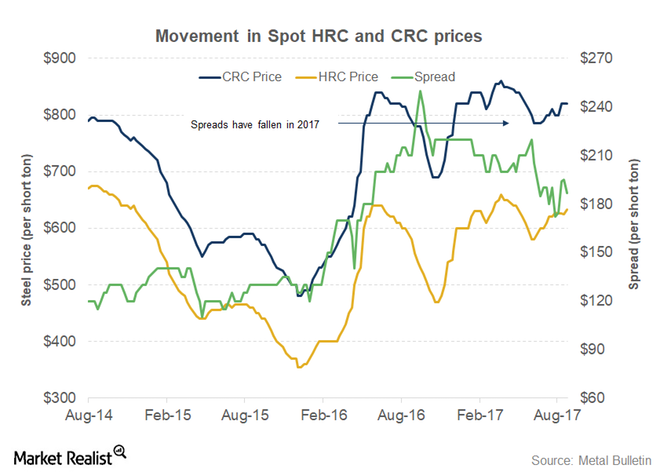 Impact on CLF: Will the Trump Administration Listen to US Steelmakers?
Letter to Trump
The American steel industry has written to President Donald Trump requesting that he restrict steel imports immediately. Investors should note that in April 2017, the Trump administration had announced a probe into steel imports under Section 232, which was used to explore whether imports posed a national threat.
Article continues below advertisement
Delay in action
While the administration was quite positive about the decision of this probe at the end of June 2017, the decision has been delayed. In the meanwhile, imports started creeping up, which led steelmakers (SLX) including Nucor (NUE), U.S. Steel (X), ArcelorMittal (MT), and Commercial Metals (CMC) to appeal to the administration regarding an immediate decision.
The steel executives specifically mentioned in the letter that the industry is suffering from the consequences of Trump's inaction with regard to steel imports.
Impact on US steelmakers
US steelmakers were expecting a prompt favorable decision to restrict steel imports, leading to gains in their market shares. Meanwhile, steel prices have also been moving sideways lately, and so any restriction on imports would further increase steelmakers' pricing power.
A higher market share for domestic steelmakers and an increased pricing power would, in turn, be beneficial for Cleveland-Cliffs (CLF). Investors should note that ArcelorMittal (MT) and AK Steel (AKS) are Cliffs' major clients.
Since higher steel imports are the biggest worry for US steelmakers, we'll discuss the import outlook in the next part.