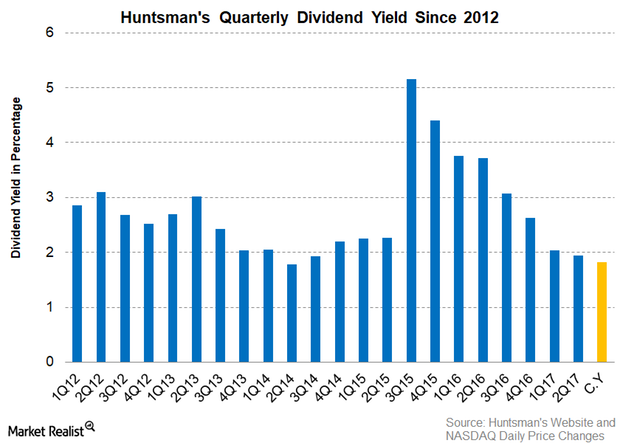 Huntsman's Dividend Yield Falls as Its Stock Price Rises
Huntsman's dividend yield
Dividend yields are very important for long-term investors, as they fetch a steady income. Investors prefer companies with a strong dividend yield and growth.
As Huntsman (HUN) has maintained its dividend rate, we can expect it to pay a fiscal 2017 dividend of $0.50 per share At this dividend rate, Huntsman's dividend yield stands at 1.8%. Peers Eastman Chemical (EMN), Westlake Chemical (WLK), and Chemours (CC) have dividend yields of 2.4%, 1.1%, and 0.25%, respectively. Huntsman's dividend yield has fallen since hitting a high of 5.2% in 3Q15, mainly due to the drastic rise in its stock price and lack of dividend growth. Huntsman's stock price has risen from $9.69 at the end of 3Q15 to $27.48, which is almost a 200% jump. If the trend continues, the dividend yield may fall further.
Huntsman's current dividend yield is still better than one-year Treasury bond yields, thus making it an attractive investment option. However, to keep long-term investors interested, Huntsman could increase its dividend, which would boost its dividend yield.
Article continues below advertisement
Dividend payout
At the end of 2Q17, Huntsman's dividend payout stood at 36%. Since 2012, Huntsman's dividend payout has mostly been around 26%–36%, with the exception of a couple of years due to lower earnings per share. Balancing dividend payouts is very important, especially when earnings are growing slowly. Whereas a low dividend payout will leave a company with a higher retention of profits and could help support other financial activities, investors might not be pleased. On the other hand, a high dividend payout will leave little for the company for future expansion and other financing activities.
To hold Huntsman indirectly, investors could consider the iShares US Basic Materials ETF (IYM), which had invested 0.90% of its holdings in Huntsman as of September 13, 2017. In the next part, we'll discuss analysts' views on Huntsman.