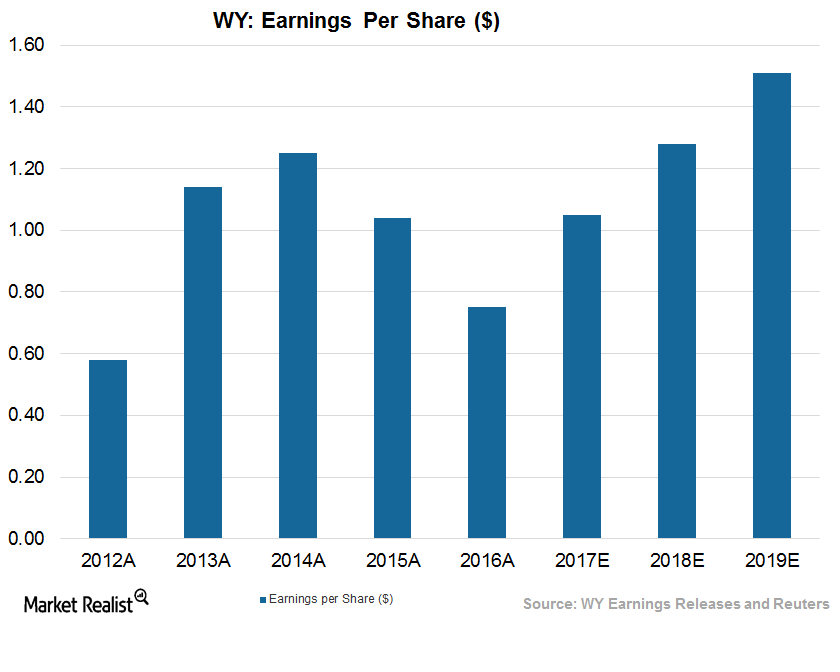 How Weyerhaeuser and Timberland REITs Came through the Fire
The Timberland REIT sector overall
Timberland REITs (real estate investment trusts) in the US don't seem to be bothered about their continued growth momentum in the near future. The main driving factor behind the growth of timberland REITs is the US housing sector. These REITs have recovered from the slump and reported impressive sales in 1H17. Consistent job growth and a growing economy have further boosted growth in the sector.
Meanwhile, rising confidence among US home builders has resulted in a spike in housing starts, which has lowered the gap between the demand and supply in the housing market. Such improvements in the housing sector have had a direct impact on timberland REITs including Weyerhaeuser (WY), Rayonier (RYN), Resolute Forests Products (RFP), and International Paper (IP), as more than half of their revenues is derived from harvesting trees for lumber used for home building.
Notably, WY, RYN, and IP make up almost 20% of the iShares Global Timber & Forestry ETF (WOOD). With 23% exposure to REITs and almost 10% exposure to paper and forest products, WOOD has a beta score of 1.2x, which indicates that the ETF is not cushioned against volatility.
Article continues below advertisement
Timberland REITs have recently shown a spurt in profits, with prudent cost management and strategic dispositions. Technology progress has also helped these timberland owners reap higher profits. With the help of biotechnology, they've been able to produce genetically improved varieties with biotechnology and cloning.
Weyerhaeuser's performance so far
Weyerhaeuser reported higher-than-expected EPS (earnings per share) results in two of the past eight quarters but missed estimates in 2Q16 and 4Q16, mainly due to the overall slump in the housing sector.
However, the company made a strong in 2017. After beating estimates by 20.2% in 1Q17, Weyerhaeuser's EPS beat estimates in 2Q17 by 3% and topped its 2Q16 results of $0.17 per share.
In this series, we'll analyze Weyerhaeuser's (WY) growth story in detail. We'll start in the next part by digging deeper into the company's 2Q17 results.