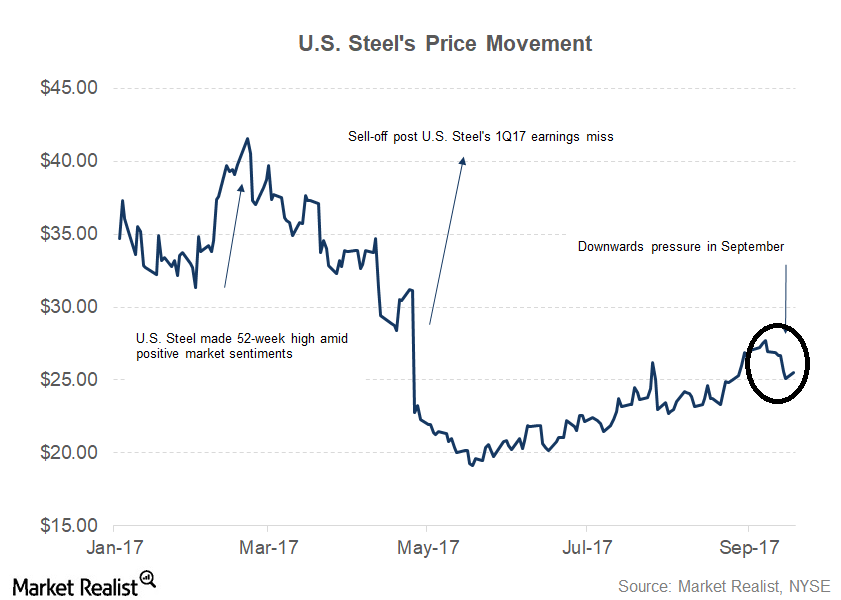 How the US Steel Industry's Supply and Demand Looks before 4Q17
Supply and demand
September has not been an easy month for US steel companies. Although steel stocks have recouped some of their losses in the last two trading sessions, U.S. Steel Corporation (X) and AK Steel (AKS) have lost 5.3% and 4.1%, respectively, for the month based on their September 27 closing prices. ArcelorMittal (MT) has also lost 5.1% in the month.
Several factors have been weighing on US steel stocks this month. You can read Why Is U.S. Steel Corporation Getting Battered? to find out what's driven the recent downturn in steel stocks.
Article continues below advertisement
Steel imports
In the long-term, commodities are driven by the underlying supply–demand equation. Domestic production and imports constitute the steel industry's supply side of the equation. As for demand, construction, automotive, and energy sectors are the leading steel consumers (CLF) (XME).
The US is the world's biggest steel importer. You can read Your Guide to the Top 10 in the Global Steel Industry for a broad overview of major steel producers and importers.
Series overview
We are about to enter the fourth quarter. which is typically a seasonally slow quarter for US steel demand. Analyzing supply–demand dynamics can give us some insight into the outlook for steel prices.
In this series, we'll look at recent steel industry indicators. We'll discuss the supply–demand indicators for the US and international markets, which could help us understand what could drive steel prices in the near term.
Steel imports have been a major concern for US steelmakers for quite some time now. In the next article, we'll look at the data for August steel imports.