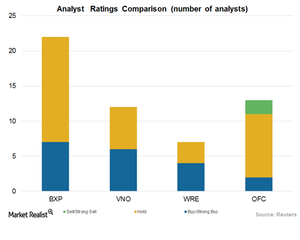 How Do Wall Street Analysts Rate Boston Properties?
Ratings give an outlook of performance
In this article, we'll look into the rating analysts have given Boston Properties and also compare these ratings with those of the company's close peers.
Article continues below advertisement
Boston Properties' ratings
Boston Properties has been assigned a target price of $133.58, which is a 12.5% premium to its current price level of $119.50. Seven analysts out of 22 have given the stock a "buy" or a "strong buy" rating. Fifteen analysts have given the company a "hold" rating.
The company's higher-than-expected results in the first half of 2017 made analysts optimistic about the stock. Further, Boston Properties has enhanced its fiscal 2017 guidance, as it expects to continue the business momentum further. The company has further positioned its properties in Class A cities, which has helped it to tap the growing demand for office spaces in these regions. The company enjoys the benefit of high rent growth in these regions. Further, analysts are bullish about the stock's shareholder return policy. The company raised its quarterly dividend by 15% in 1H17.
Peer analyst ratings
Analysts assigned Vornado Realty Trust with a target price of $87.7, up 19.2% from the current price level. Six out of 12 analysts rated the stock as a "buy" or "strong buy." The remaining six rated the stock as a "hold."
BXP and VNO account for almost 4% of the First Trust S&P REIT ETF (FRI). The ETF has a current volume of 25,390 shares.
Washington Real Estate Investment Trust (WRE) was assigned a target price of $34.64, up 6.7% from the current price. Four analysts out of seven analysts rated the stock a "buy" or "strong buy." Three analysts rated the stock as a "hold."
Corporate Office Property Trust (OFC) was assigned a target price of $34.27, a 5.3% premium to the current price level. Two analysts rated the stock a "strong buy" or "buy," nine analysts rated the stock as a "hold," and two analysts rated the stock as a "sell" or "strong sell."