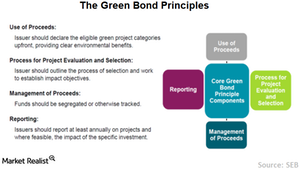 Can Green Bonds Help Create Sustainable Long-Term Returns?
VanEck
Sustainable Long-Term Returns
From a fundamental standpoint, a green bond should provide the same level of returns as a conventional bond from the same issuer. However, it is worth noting that by issuing green bonds, issuers are taking steps to address the long-term climate risks that could potentially affect their creditworthiness. By strategically addressing and potentially mitigating these risks through the issuance of green bonds or through other initiatives, these issuers may ultimately be rewarded with a lower cost of capital while investors potentially benefit from sustainable long-term returns, versus investment in issuers with higher levels of climate risk.
Article continues below advertisement
Market Realist
Could green bonds enhance issuers' credit quality?
Green bonds are well suited to access the huge amount of capital required to fund low-carbon green projects. They are useful especially for large sustainable projects such as solar (PBW) (PZD) and wind energy (ICLN) (QCLN), which often require huge capital investments at the initial stages while revenues are distributed over a longer investment horizon.
Although green bonds are still being priced like conventional bonds, when they first sell, the ultimate impacts of both types of bonds on the environment are entirely different. Green bond investors claim that in the long run, green bonds have the potential to create a positive influence on the environment, which could have a beneficial impact on society and the corporations that issue them.
Green Bond Principles
Engagement with green bond issuers on sustainable development results in more information flow regarding their sustainable strategies. The GBP (Green Bond Principles), a set of voluntary guidelines for the issuance of green bonds, encourages more transparency, higher disclosure, and better reporting in the green bond market.
Improvement in credit quality
Green investors claim that the following factors provide a significant information advantage: higher transparency in the application of proceeds; tracking of reporting requirements on important investment issues such as project details, spending efficiency, return expectations, performance updates, and environmental impact assessments. Transparency in the use of proceeds could also lead to better internal governance structures for the issuer. The transparent information flow may help enhance credit analysis, which could lead to improvement in the overall credit quality of the borrower. An improvement in credit quality could ultimately result in a lower cost of capital for green bond (GRNB) issuers and better sustainable returns for green bond investors.