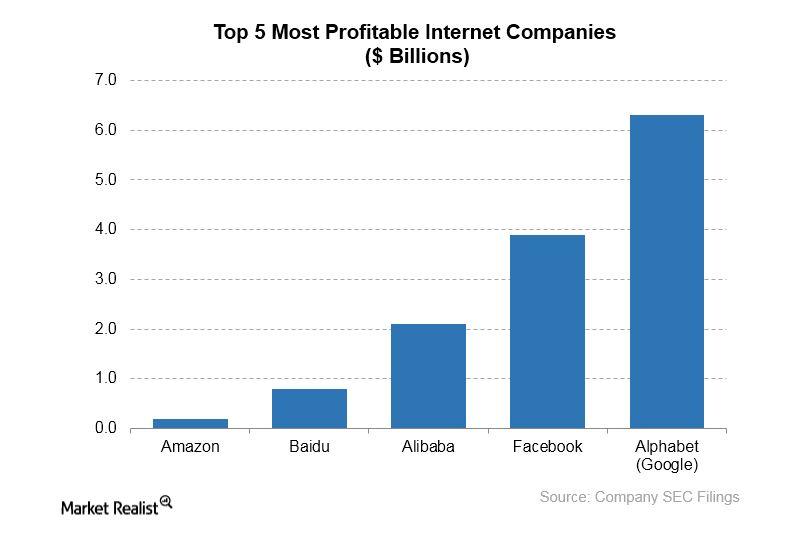 EU Fine Had a Huge Impact on Alphabet's Profitability
EU fine cut Alphabet's profits
Alphabet (GOOGL), Facebook (FB), Alibaba (BABA), Amazon (AMZN), and Baidu (BIDU) make the list of the most profitable Internet companies. Facebook, Baidu, and Google parent Alphabet make money by providing Internet advertising services. Alibaba and Amazon, on the other hand, make money through providing e-commerce services such as operating online marketplaces.
Alphabet's net profit for 2Q17 was $6.3 billion, though a $2.7 billion fine from the European Union (EZU) for antitrust violations reduced its reported net profit for the quarter to $3.5 billion. The company posted a net profit of $19.5 billion in fiscal 2016.
Article continues below advertisement
Facebook's profit nearly doubles in one year
Facebook's net profit was $3.9 billion in 2Q17, up from $2.3 billion in the corresponding quarter a year earlier. The company posted net income of $10.2 billion in fiscal 2016. China's e-commerce titan, Alibaba, earned a net profit of $2.1 billion in fiscal 1Q18, its accounting period that corresponds to 2Q17. The company generated net profit of $6.0 billion in its fiscal 2017.
Baidu, China's leading Internet search company, posted net profit of $822 million in 2Q17. The company posted net profit of $1.7 billion in 2016.
Amazon posted net profit of $197 million in 2Q17. Its net profit was $2.4 billion in fiscal 2016. Cloud computing is Amazon's most profitable business.
Other profitable Internet companies
PayPal and eBay are other profitable Internet companies. At Yelp, profits have been on and off, while Square and Zynga have been cutting their losses.