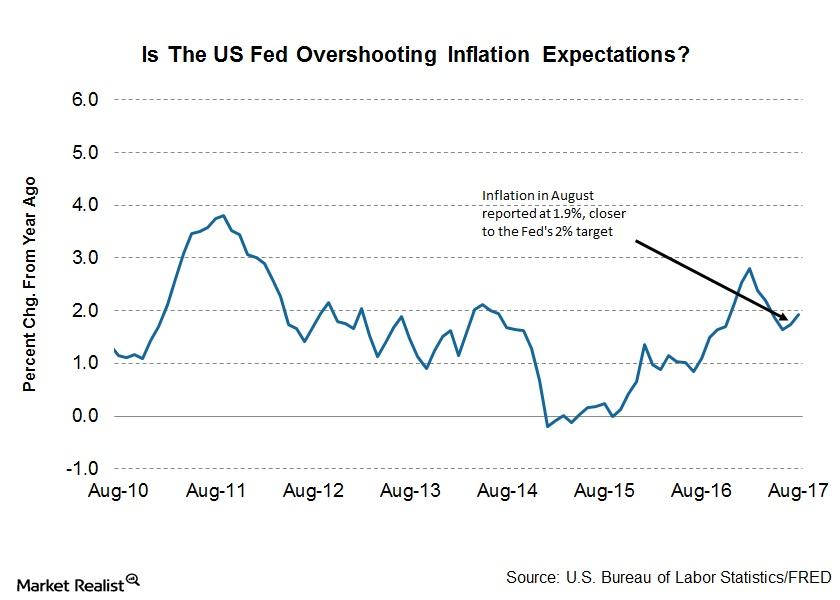 Do Markets Agree with Janet Yellen on Low Inflation?
Yellen says low inflation is transitory
In her post-meeting press conference, US Federal Reserve Chair Janet Yellen seemed less worried than expected about the current state of US inflation. US inflation (STIP) has been stubbornly low since the beginning of this year, and the Fed had mentioned the delay in reaching its target in the previous FOMC (Federal Open Market Committee) meetings.
This time, however, Janet Yellen said that lower levels of inflation are transitory, and that the Fed will continue to closely monitor the changes to inflation (SCHP). This sudden but subtle change in tone about inflation (TDTT) could have been inspired by the uptick in August inflation (TIP), which was reported to have grown 1.9%.
Article continues below advertisement
Is a higher inflation rate that important?
High inflation is not usually desired because it impacts the living costs of the population. The Fed has a target level of inflation (VTIP) of 2%. But why should there be a target level of inflation?
If there's no inflation, it can lead to deflation, an economic phenomenon wherein prices are falling. In such a situation, consumers hold off any purchases, expecting the prices to fall further, which results in lower demand for products. Industries scale down production and hiring in response, leading to unemployment and, ultimately, a recession.
Are markets on the same page as the Fed?
In response to the Fed's hawkish statement in the September meeting, bond yields have rallied from the previous week's lows. On September 20, the day the Fed's latest statement was made, the ten-year bond yield rose 1.2%, and the 30-year bond fell 0.14%.
This change to the yield curve is a result of mismatched expectations between markets and the Fed, and so we'll have to wait and see who's right about US inflation.
In the next part this series, we'll take a closer look at the US bond market reaction to the Fed's latest statement.