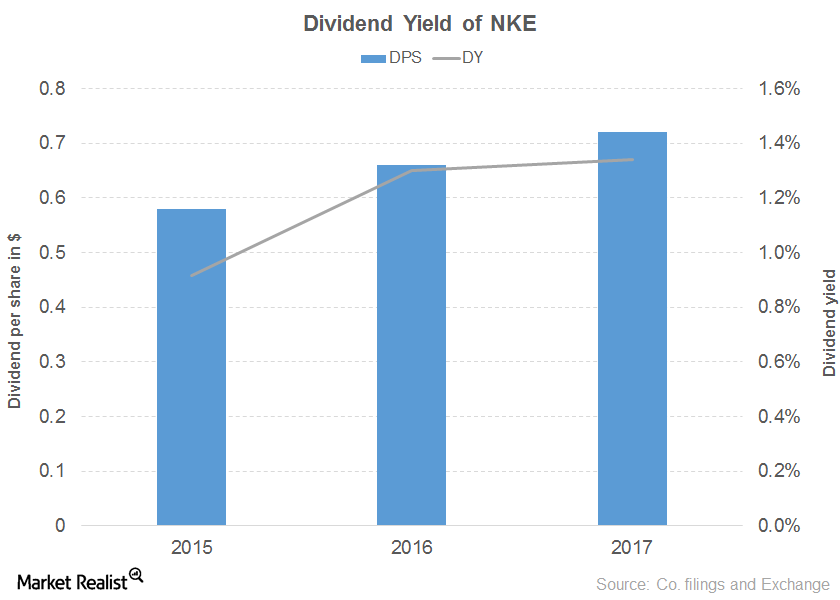 A Look at Nike's Dividend Yield Curve
Nike's revenue and earnings
In this part of the series, we'll take a look at Nike (NKE), a global designer, developer, marketer, and seller of athletic footwear, apparel, equipment, and accessories. Nike recorded a 6.0% revenue growth in both 2016 and 2017. The growth was driven by North America, Europe, Greater China, and Japan, offset by emerging markets, global brand divisions, and Converse. Nike has noted growth in 2017 in every segment except the global brand divisions, which has reported flat growth. Operating income rose 5.0% in 2017 compared to 8.0% in 2016 due to higher expenses and lower gross margins. Diluted EPS (earnings per share) rose 16.0% in 2017 compared to 17.0% in 2016, despite higher interest expenses. EPS was further enhanced by share buybacks. Nike has maintained a good free cash flow position, which has grown again after falling in 2016.
Article continues below advertisement
Nike's dividend trajectory
More than the dividend increase, it's the price loss that has contributed to the upward sloping dividend yield curve. The curve started flattening after 2016 due to the price rise, as you can see in the price chart below.
Here are two dividend ETFs with exposure to Nike. The PowerShares Dividend Achievers ETF (PFM) offers a 2.1% dividend yield at a PE (price-to-earnings) multiple of 20.1x. It has a 22.0% exposure to consumer non-cyclical. The WisdomTree US Dividend Growth ETF (DGRW) offers a 2.7% dividend yield at a PE multiple of 20.3x. It has a 20.0% exposure each to technology and healthcare, followed by a 20.0% exposure to industrials.