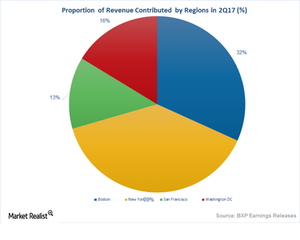 Boston Properties Could Ride High on These Factors
Why the company is worth a look
Boston Properties (BXP) has strong business momentum and has been maintaining a decent growth trajectory for the past few years. Further, the recent turn of events in the US economy has helped commercial REITs like Boston Properties take advantage of opportunities to boost its revenue and profit further.
Article continues below advertisement
Location plays a key role
We have seen a demographic shift in the US towards class A cities, which have posted high-income growth. Boston Properties and peers like Equity Residential (EQR), Vornado Trust (VNO), and Public Storage (PSA) have accordingly repositioned their properties in the six coastal areas of Boston, New York, San Francisco, and Washington DC. These areas serve as job growth centers and have high demand for office spaces, thus indirectly boosting the company's demand for office properties.
The REITs occupy almost 11% of the First Trust S&P REIT ETF (FRI). The ETF has net assets worth $217.3 million. Moreover, BXP's residential complexes are also witnessing high growth backed by high demand. These markets have high barriers to entry, which means Boston Properties could see less competition.
During 2Q17, Boston contributed 31.8% to total revenue, New York contributed 38.8%, San Francisco contributed 13.2%, and Washington DC contributed 16.3%.
Skilled management team ensures competitive advantage
Boston Properties has a skilled management team that helps the company develop complex and challenging residential as well as commercial projects in highly competitive markets. The skilled team helps the company acquire projects that are unviable for other companies because of lack of human as well as capital resources.
The company develops state of the art properties and leases them as per the needs of modern consumers. Modern consumers tend to prefer high-quality apartments and office spaces that are able to provide sophisticated telecommunications and related services as well as support systems.
In the next article, we'll see how Boston Properties maintains profitability through acquisitions and dispositions.