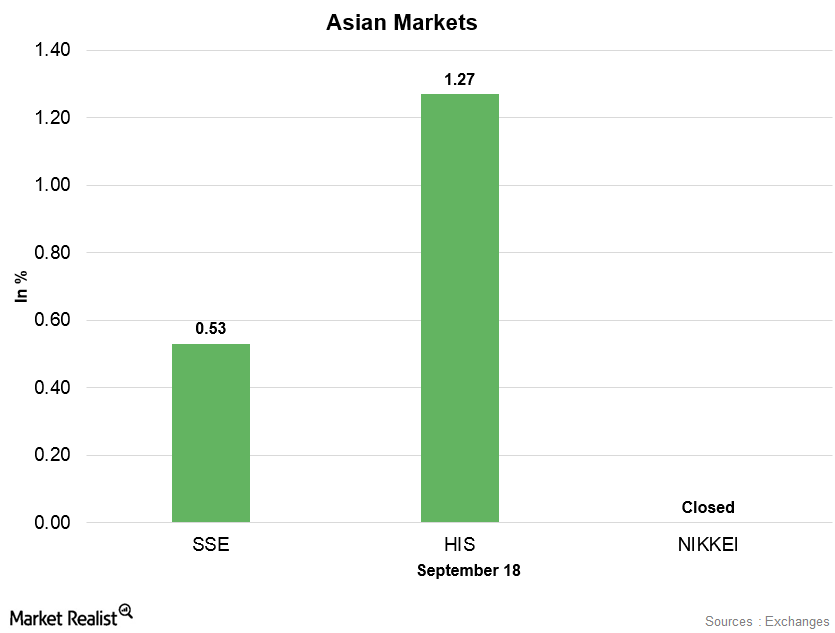 Asian Markets Rose amid China's Strong New Loans Data
Economic calendar
10:30 AM EST – European Central Bank's Lautenschlaeger speaks
11:00 AM EST – Bank of England Governor Carney speaks
Article continues below advertisement
China
After falling for two consecutive trading weeks, China's Shanghai Composite Index started this week on a positive note. China's better-than-expected economic data and decreased restrictions on China's stock index futures trading supported China's market on Monday.
Last week, despite the improved global market sentiment, China's markets pulled back amid doubts about China's economic strength in 2H17. Weaker-than-expected fixed asset investment, industrial production, and retail sales data sparked doubts about economic stability in the last week. However, China's stronger-than-expected new loans data boosted the market sentiment. According to the People's Bank of China, China's new loans recorded 1,090.0 billion yuan in August—higher than the forecast of 950 billion yuan. Higher new loans improved the market sentiment and supported the Shanghai Composite Index today.
On September 18, 2017, the Shanghai Composite Index rose 0.53% and ended at 3,362.86. The SPDR S&P China ETF (GXC) rose 0.54% and closed at 103.20.
Hong Kong
After regaining strength last week, Hong Kong's Hang Seng Index started this week on a stronger note. The Hang Seng Index opened higher on Monday and rose to the highest levels in 27 months. The strong sentiment on Wall Street, the rally in Chinese home developers listed in Hong Kong, and the strong Asian sentiment pushed the Hang Seng Index higher on Monday. The Hang Seng Index rose 1.3% and closed the day at 28,159.77. On September 15, the iShares MSCI Hong Kong Index (EWH) rose 0.44% and closed at 24.86.
Japan
Japan's Nikkei Index rose in four out of five trading days last week amid the improved global market sentiment. The stronger dollar also added demand for exporters last week. Japan's markets are closed today due to the "Respect for the Aged Day."
In the next part, we'll see how European markets performed in the morning session on September 18, 2017.