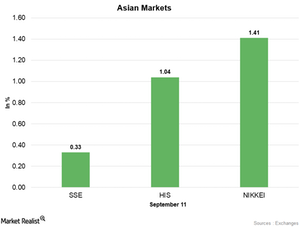 Asian Markets Started the Week on a Stable Note
China
China's Shanghai Composite Index broke the three-week rising streak last week amid decreased market momentum. Following the pullback, the Shanghai Composite started this week on a stronger note by moving higher on Monday.
China's Shanghai Composite started today on a stronger note amid improved global market sentiment and supporting domestic economic data. The market sentiment improved amid the absence of nuclear missile tests by North Korea over the weekend. Decreased concerns about Hurricane Irma also supported the market sentiment. According to data released by the National Bureau of Statistics of China, China's consumer price index recorded 0.4% in August—higher than the forecast of 0.3%. The weaker yuan also supported China's markets on Monday.
Article continues below advertisement
The market is looking forward to the release of fixed investment, retail sales, and industrial production data that are scheduled to release on September 13. On September 11, 2017, the Shanghai Composite Index rose 0.33% and ended at 3,376.42. The SPDR S&P China ETF (GXC) fell 0.53% and closed at 100.30.
Hong Kong
After trading with weak momentum for two consecutive trading weeks, Hong Kong's Hang Seng Index started this week on a stronger note. The US dollar's recovery amid decreased concerns about Hurricane Irma and strong sentiment in Asian markets on Monday supported the Hang Seng Index. Amid the improved risk appetite, the Hang Seng Index opened higher on Monday and closed at the highest daily close in September. On September 11, the Hang Seng Index rose 1.0% and closed the day at 27,955.13. On September 8, the iShares MSCI Hong Kong Index (EWH) rose 0.41% and closed at 24.72.
Japan
After losing strength last week, Japan's Nikkei Index started this week on a stronger note. The lack of missile tests by North Korea over the weekend improved the risk appetite in Japan's markets. The weaker yen also supported the Nikkei Index. On Monday, the Nikkei Index closed the day at 19,545.77—a rise of 1.4%. The iShares MSCI Japan Index (EWJ) rose 0.31% to 54.97 on September 8.
In the next part of this series, we'll see how European markets performed in the morning session on September 11, 2017.