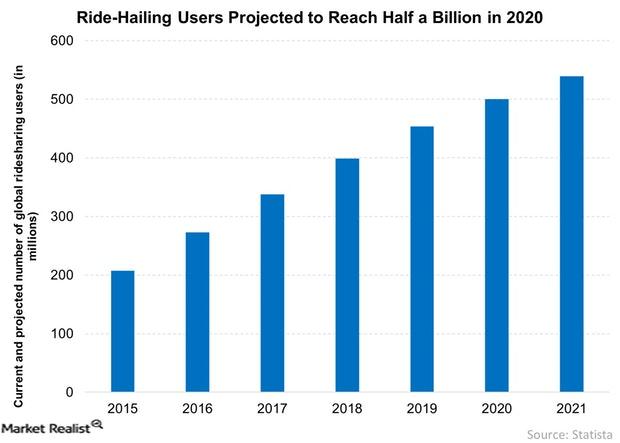 Why Uber Could Struggle to Stay on Top of the Ride-Hailing Market
The ride-hailing business is seeing stiff competition
Ride-hailing is a fast-growing segment that has gone from being a luxury to a necessity in just a few years. According to a May 2017 report by Goldman Sachs, ride-hailing could grow eightfold by 2030. Statista estimates the number of users of ride-hailing services to cross 500 million in another three years, as depicted in the graph below.
San Francisco–based Uber and China's Didi Chuxing are the leaders in the ride-hailing business with valuations of nearly $70 billion and $50 billion, respectively. The sector has recently seen a number of deals.
After a long battle where Uber burned through millions of dollars, Uber folded in China as Didi had a chokehold on the country's ride-hailing market. Uber's China arm merged with Didi and took a 20% cut from the combined business. Uber had a similar deal with Yandex (YNDX) in Russia last month.
Article continues below advertisement
Didi is forming strategic ties with local companies
While Uber operates in 633 cities around the world, it faces stiff competition from local companies like Careem in the Middle East, Grab in Southeast Asia, and Ola in India. As with Didi in China, Uber is second to Ola in India. Ola operates in almost 100 cities in India, while Uber is operational in only ~20 Indian cities.
Didi has been entering into strategic partnerships with other ride-hailing companies to intensify its rivalry with Uber. Didi recently entered a deal with Careem and Grab. Apple (AAPL) invested $4.5 billion in Didi last year.
Uber is facing many issues internally
While Uber's rivals are gaining on the company, it still faces other issues. The ride-hailing company has come under pressure due to its cultural and leadership woes, which culminated in its co-founder and CEO, Travis Kalanick, stepping down.
Uber's self-driving technology progress has also been hindered due to Alphabet's (GOOGL) lawsuit. The lawsuit alleges that an Uber engineer appropriated designs for key sensors from Waymo, Alphabet's autonomous car unit.
While Uber's revenues have been growing, the company is still seeing deep losses, as it offers bonuses to drivers and discounts to users.