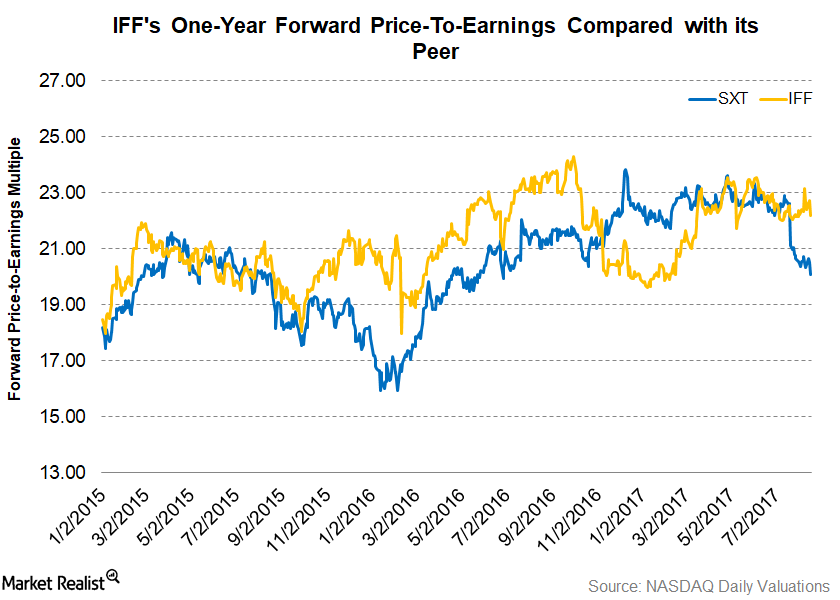 What IFF's Valuations Suggest about the Stock
IFF's forward PE
As of August 17, 2017, International Flavors and Fragrances traded at a one-year forward PE (price-to-earnings) multiple of 22.20x. Peer Sensient Technologies (SXT) is trading at a one-year forward price-to-earnings multiple of 20.10x. Forward PE is a valuation method that considers future earnings for calculating the valuations.
The forward PE suggests how much investors are paying for the stock per dollar of expected earnings over the next 12 months. Investors can use this tool to measure two or more companies operating in the same industry to see which company is overvalued and which company is undervalued.
Article continues below advertisement
IFF trades at a premium to its peers
At present, International Flavors and Fragrances is trading at a premium compared to peer Sensient Technologies. IFF has managed to report two quarters of good earnings that beat the analysts' estimate. As a result, analysts project IFF's EPS for fiscal 2017 to be at $5.79, representing growth of 5.1% over fiscal 2016. For fiscal 2018, analysts forecast IFF's EPS to be at $6.28, an increase of 8.4% over fiscal 2017. The EPS growth is expected to be primarily driven by way of acquisitions.
On the other hand, Sensient Technologies' fiscal 2017 earnings are projected to grow 6.4%. For fiscal 2018, earnings are expected to grow by 10.5% over the fiscal 2017 earnings. SXT's earnings projection is better than IFF's, indicating that the stock might have been undervalued. On the other hand, IFF's stock could be overvalued.
Investors looking to invest in IFF indirectly can do it by investing in the Vanguard Materials ETF (VAW), which has invested 1.3% of its portfolio in IFF. The other holdings of the fund include Air Products and Chemicals (APD) and LyondellBasell (LYB), which have weights of 3.8% and 3.5%, respectively, as of August 17, 2017.