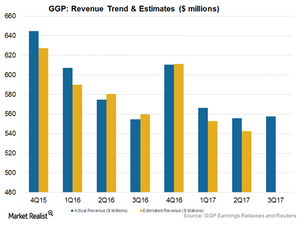 What Caused GGP's Soft Rent Growth in 2Q17?
Rent growth declined in Q2 due to dispositions
GGP's (GGP) minimum rent fell $17.0 million in 2Q17, mainly because of dilution resulting from the sale of an interest in the Fashion Show Mall in Las Vegas in 2016. That negatively impacted its base minimum rent by $20.1 million. The sale of two additional properties impacted its sales negatively by another $3.4 million less base minimum rents. Tenant recoveries were also negatively affected by the disposition undertaken last year.
Article continues below advertisement
Leasing to ramp up in the future
GGP is confident about the performance of its real estate properties in the upcoming months. It expects to add almost 370 new tenants to its business. The company reports high demand across its portfolios from varied sections of tenants.
GGP also expects to expand its leasing activities in the upcoming quarters by adding new tenants. It has leased 9.5 million square feet year-to-date. That's equivalent to about 30 malls. Bankruptcies amounted to 1.8 million square feet during the quarter.
Traffic has increased 1.4% since the end of fiscal 2Q17 due to higher visits to the company's malls. The use of parking spaces has also risen recently, indicating higher non-retail uses by consumers.
Several e-commerce retailers are also planning to open stores in malls owned by GGP. These online retailers, which have been in the e-commerce business for more than five to seven years, are aiming to enhance their profitabilities by opting for brick-and-mortar stores in GGP's premium malls.
Since tenants want to be placed at the best properties, GGP and its other commercial REIT peers such as Macerich (MAC), Simon Property Group (SPG), and Kimco Realty (KIM) are repositioning their properties at high-demand Class A locations and redeveloping the spaces according to their tenants' needs.
The iShares Cohen & Steers REIT (ICF) holds 13.0% in the above REITs. It has a diversified portfolio comprised of high-cap REITs and provides a suitable return to investors.