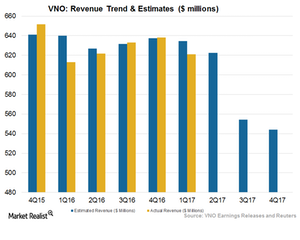 Vornado's New Leases Drove Revenue in 2Q17
2Q17 driven by rent growth
VNO posted rental revenue of $626 million in 2Q17, missing Wall Street's estimates of $633.2 million. However, rental revenue came in higher than the $621 million reported a year ago. While the company's New York region reported a 3.2% gain in revenue during the quarter, Washington saw an 8.2% fall.
Since property owners ramped up their supply, rent growth has moderated. However, the supply isn't as high as the demand, particularly in Class A cities. Thus, Vornado's initiatives to reposition itself in the high profile city of New York is a winning strategy for the company. New York is currently a buzzing city with enormous job growth. The vacancy rate in Manhattan fell by 20 basis points to 9.2%. The improved vacancy rate during the quarter was driven by positive net absorption during the quarter.
Article continues below advertisement
Vornado has maintained a modest rent growth trend. Occupancy almost remained flat during the quarter. Renewals were strong during the period, thus driving revenue indirectly. Vornado continued to outperform the industry during the second quarter with high demand for its assets at high profile buildings like 90 Park Avenue, 280 Park Avenue, 888 Seventh Avenue, and the recent addition of 61 Ninth Avenue in Manhattan. The company's assets in the city are well positioned and regular redevelopments have helped it maintain its premium position.
High leasing activities helped top-line growth in Q2
The company's Street Retail business in New York reported strong growth during the quarter. In this segment, Vornado leased out 24,000 square feet in five projects with positive mark-to-market of 34.9% and 24.8% cash. Occupancy remained flat at 95.3% during the quarter.
The improving job market has increased the demand for office spaces. The New York office segment leased a total of 543,000 square feet of office space in 2Q17. Average starting rates were at $79.50, reflecting a mark-to-market gap of 17.8% and a strong 13.7% in cash.
TheMART in Chicago witnessed no new office leases during the quarter. The segment is already 99% leased. Vornado leased out 90,000 square feet of showroom during the quarter.
Vornado's peers include companies like AvalonBay Communities (AVB), Boston Properties (BXP), and Equity Residential (EQR). AVB reported revenue of $529 million, BXP reported revenue of $657 million, and EQR reported revenue of $612.3 million.
Investors can consider the iShares Cohen & Steers REIT ETF (ICF), which invests 12.4% of its portfolio in Vornado and its REIT peers. ICF's wide product diversity cushions investors against macro headwinds.