Could NVIDIA's Revenue Growth Result in a Higher Profit Margin?
For fiscal 2Q18, analysts expect NVIDIA to report earnings per share of $0.78, which marks a sequential decline of 8.2%.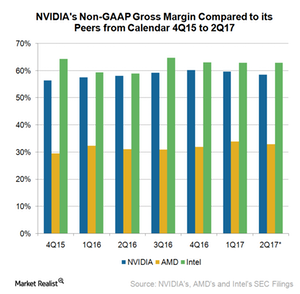 NVIDIA's profitability
In the previous part of the series, we saw that NVIDIA (NVDA) is likely to witness strong revenue growth due to both short- and long-term growth drivers. Higher revenues could convert into higher profit margins although the company increases its operating expense.
Article continues below advertisement
Article continues below advertisement
Gross margin
NVIDIA's gross profit is directly proportional to its revenue growth and product mix. Its non-GAAP[1. generally accepted accounting principles] gross margin fell from 60.2% in fiscal 4Q17 to 59.7% in fiscal 1Q18 as its revenues fell 11% during this period.
For fiscal 2Q18, the company expects its gross margin to fall to 58.6% as it starts production of Volta GPU (graphics processing unit) on TSMC's (TSM) 12nm (nanometer) node. The initial production would bear a higher cost as yields are low while transitioning. So, the gross margin is likely to fall despite higher revenues and richer product mix of high-margin Titan GPUs.
Advanced Micro Devices' (AMD) non-GAAP gross margin fell from 34% in fiscal 1Q17 to 33% in fiscal 2Q7 due to a larger mix of lower-margin GPUs purchased by cryptocurrency miners. There is a vast difference between the two companies' gross margins as NVIDIA dominates the higher-margin product market, leaving lower margin products for AMD.
Article continues below advertisement
Operating margin
While the cost of manufacturing hardware determines gross margin, the cost of developing software determines the operating margin, as it is included in the company's operating expenses. NVIDIA's operating expense has been increasing since the start of fiscal 2017 as it kick-started its growth initiative in the AI (artificial intelligence) space.
It has been increasing its spending on developing software ecosystem around its GPU (graphics processing unit) to make its chips ideal for multiple applications. This software ecosystem gives NVIDIA a competitive advantage over Intel (INTC) and AMD in the AI space.
The company expects its operating expenses to increase 2.5% sequentially to $530 million in fiscal 2Q18. Despite this, its operating margin is expected to increase slightly as its revenues are expected to increase faster than its operating expenses.
EPS
For fiscal 2Q18, analysts expect NVIDIA to report EPS (earnings per share) of $0.78, which marks a sequential decline of 8.2%. The company has beaten analysts' EPS estimates over the past seven quarters by an average of 37.5%. If the company maintains this trend, it could report EPS of $1.00 in fiscal 2Q18.
Next, we'll look at the performance of NVIDIA's two key products—GPUs and Tegra processors.