NVIDIA Seeks to Continue Its Strong Gaming Revenue Growth in Fiscal 2018
NVIDIA's gaming revenues rose 49% year-over-year to ~$1.0 billion in fiscal 1Q18, driven by strong demand for Pascal GPUs.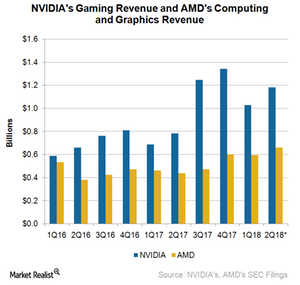 NVIDIA's Gaming segment
NVIDIA (NVDA) is a well-known name in the PC gaming world, commanding over 70% share in the desktop discrete GPU (graphics processing unit) market. The company has been diversifying its revenue streams, but gaming still contributes more than 60% toward its revenues. NVIDIA's only competitor in this space is Advanced Micro Devices (AMD), which mainly caters to mid- and low-end GPUs.
However, AMD intends to change the status quo by entering the high-end GPU market with Vega. Any impact of the new product would only be visible in calendar 3Q17.
Article continues below advertisement
Article continues below advertisement
Gaming revenues
NVIDIA's gaming revenues rose 49% YoY (year-over-year) to ~$1.0 billion in fiscal 1Q18 driven by strong demand for Pascal GPUs. However, these revenues fell 24% on a sequential basis as seasonal sales faded.
Its gaming revenues are expected to increase ~15% sequentially to ~$1.2 billion in fiscal 2Q18 as the quarter would include full quarter sales of GTX 1080 Ti and Ti XP. It would also include sales of GPUs purchased by cryptocurrency miners.
AMD's computing and graphics revenues rose 11% sequentially in calendar 2Q17 even though 2Q is a seasonally weak quarter for the company. This revenue growth was driven by strong demand for GPUs and Ryzen CPUs (central processing units). As the company does not provide GPU sales separately, it is difficult to say how much GPU contributed to the growth.
Article continues below advertisement
Factors driving PC gaming revenues
NVIDIA expects the gaming market to continue to its double-digit growth in the next few years. The growing popularity of eSports is increasing the GPU customer base beyond gamers to eSports viewers.
VR (virtual reality) gaming and AAA games are encouraging gamers to upgrade to higher-performance GPUs. China (FXI) is the emerging market for gaming where more people are becoming gamers.
NVIDIA's efforts in the gaming space
NVIDIA is making efforts to boost its gaming revenues. It launched its Max-Q technology, which optimizes GTX 1080, 1070, and 1060 GPUs into gaming laptops and notebooks. Fiscal 2Q18 would include initial sales of gaming notebooks launched by PC OEMs (original equipment manufacturers) such as Hewlett-Packard (HPQ) in July 2017.
NVIDIA is also looking to expand its GeForce user base through GeForce NOW in which a gamer can rent a GPU-powered PC on the cloud on an hourly basis to play games in high resolution. The hourly rates are so high that several hours of gaming per week could result in hundreds of dollars in charges. A more economical alternative for gamers would be to buy a GPU.
NVIDIA estimates that there are over 200 million GeForce users worldwide. The average selling price for its GPU is $180 per unit, bringing an opportunity of more than $30 billion.
Next, we will look at NVIDIA's Data Center segment.