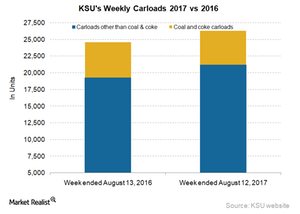 Kansas City Southern: Did Coal Push Volumes in Week 32?
KSU's carloads in week 32
Kansas City Southern (KSU), a US-Mexico railroad, is the smallest Class I railroad in the US. In the week ended August 12, 2017, KSU's overall railcar volume rose 7% compared with the volumes in the week ended August 13, 2016. Kansas City Southern moved 26,000 plus railcars in the 32nd week of 2017 against 25,000 units in week 32 last year.
Even though volumes excluding coal and coke rose, the coal and coke volumes fell for Kansas City Southern. The other-than-coal and coke railcars were over 21,000 units, up by roughly 2,000 railcars in week 32 of 2016. Bucking the positive trend shown in 1Q17, KSU's coal and coke railcars recorded a 4.4% decline in volumes to 5,100 carloads.
Article continues below advertisement
Article continues below advertisement
In the past few weeks, the company's coke (ANR) and coal volumes have gone down year-over-year. Coal and coke railcars accounted for 19.4% of total railcars, down 2.3% from 21.7% in week 32 last year. KSU's weekly pattern of freight data reporting doesn't facilitate volume comparison with US railroads.
KSU's intermodal traffic in week 32
In the 32 weeks of 2017, Kansas City Southern's total intermodal volumes expanded 6.6%. The company hauled 19,000 plus containers and trailers in the same week compared with 18,000 plus units in the 32nd week last year.
KSU's container traffic jumped 7.5% to 19,000 units. The company moved 18,000 plus containers in week 32 last year. Continuing the trend, trailers reported a volume contraction of 32.3% to 260 units against 378 trailers hauled last year in the same week.
Kansas City Southern's intermodal growth in week 32 was in line with the percentage volume gains registered by US and Mexican railroads. The Guggenheim S&P 500 Equal Weight ETF (RSP) includes all US-originated Class I railroads (UNP) in its portfolio.
Next, we'll discuss Canadian National Railway's (CNI) traffic.