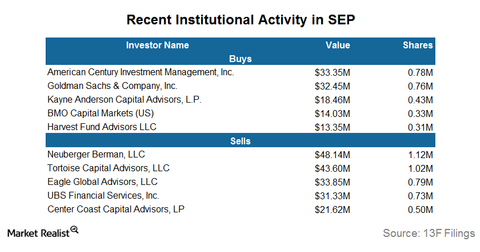 Institutional Activity in Spectra Energy Partners in 2Q17
By Kurt Gallon

Updated
Recent institutional activity in SEP
Neuberger Berman and Tortoise Capital Advisors unloaded major positions in Spectra Energy Partners (SEP), the MLP now owned by Enbridge (ENB), during the recent quarter. They sold 1.1 million and 1.0 million shares, respectively. American Century Investment Management and Goldman Sachs were the biggest buyers, with 0.78 million and 0.76 million shares bought, respectively.
Overall, SEP saw total buying of 2.6 million shares from institutional investors during the quarter, while 4.1 million shares were sold. Among the top institutional holders, 0.26 million positions were sold. That shows no major institutional activity in SEP during the recent quarter, and investors continue to hold their positions in the stock. That could be attributed to SEP's strong fee-based cash with little or no commodity and volume exposure, significant expansion opportunities, and a strong presence in the prolific Northeast region.
Article continues below advertisement
Top five holders
Tortoise Capital Advisors, Energy Income Partners, Alps Advisors, American Century Investment Management, and Center Coast Capital Advisors are the top five institutional holders in SEP. Tortoise Capital Advisors continues to be the top holder in the partnership despite its unloading of 1.0 million shares in the recent quarter. It currently holds 2.0% in SEP.
Analyst recommendations
About 61.1% of analysts rate SEP a "buy," 27.8% rate it a "hold," and the remaining 11.1% rate it a "sell" as of August 28, 2017. SEP hasn't seen any rating updates in 2017. Its peers Boardwalk Pipeline Partners (BWP) and EQT Midstream Partners (EQM) have "buy" ratings from 50.0% and 87.5% of analysts, respectively, surveyed by Reuters. SEP is currently trading below the low range ($45) of analysts' target price. Its average target price of $50 implies a ~15.0% return from its current price levels.