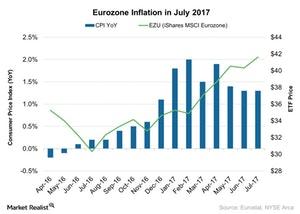 Analyzing the Eurozone's Inflation in July 2017
Eurozone inflation in July 2017
On a year-over-year basis, the Eurozone Inflation Index was at 1.3% in July 2017—the same as in June, according to data provided by Eurostat. The index didn't meet the initial estimate of 1.4%. However, it was the lowest inflation figure since December 2016.
The lower inflation figure in July was mainly due to a slower improvement in unprocessed food. The prices of processed food, energy, tobacco, and alcohol rose in July. Core inflation, which is an important indicator for the European Central Bank in its policy decisions, excludes the performances of energy and unprocessed food. Core inflation rose to 1.2% in July—the same as in June 2017.
Article continues below advertisement
Economic impact
Inflation plays a major role in the Eurozone's economy (FEZ). The economy has suffered a lot due to the deflationary situation in previous months. Between November 2016 and April 2017, the inflation figure showed a strong improvement. However, it has been falling gradually since May.
Weaker inflation is increasing investors' concerns about the economy (VGK) (IEV). Inflation showed a strong recovery in previous months. However, weaker indicators impact investors' sentiment in the economy (HEDJ).
In the next part of this series, we'll analyze how the Eurozone GDP performed in 2Q17.