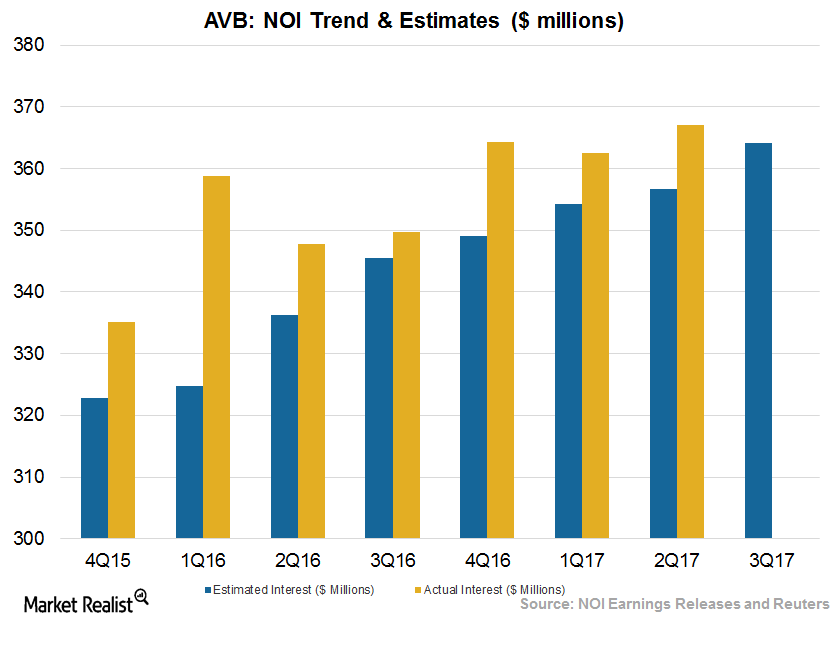 Income Rises in 2Q17, AvalonBay Expects Higher Expenses
Income generated in 2Q17
AvalonBay Communities (AVB) reported NOI (net operating income) of $367.1 million, compared with $339.6 million in 2Q16.
The Northern California region reported the highest NOI of $64.6 million, followed by the New York metropolitan area, which reported NOI of $61.5 million. Development and redevelopment communities reported NOI growth of $40.1 million, compared with $29.9 million the year prior.
Article continues below advertisement
Expenses expected to rise
AvalonBay expects operating expenses to rise, based on losses, maintenance costs in connection with West Coast storms in the first quarter, and higher bad debt. Higher professional fees and long-term compensation to workers are expected to elevate overhead expenses for the year. NOI from development and stabilized communities is expected fall $7 million in fiscal 2017.
Expenses incurred in 2Q17
Operating expenses for established communities rose 3.5% to $117.4 million. The Pacific Northwest region reported the highest increase in operating expenses, of 5.9%, while the New York metropolitan area saw an increase of approximately 1%. The Mid-Atlantic region's expenses were flat. Established communities' NOI rose 2.1%, to $276 million.
Although net income fell from $197.3 million to $165.2 million during the quarter, lower operating expenses helped the company report higher NOI. Operating expenses from real estate sold or held fell to $0.6 million from $5.9 million the year prior.
AvalonBay and peers UDR (UDR), Essex Property Trust (ESS), and Equity Residential (EQR) are expected to experience a higher cost of debt in the upcoming months as the Fed embarks on a phased interest rate hike towards the target level of 2%. REITs occupy 13% of the SPDR Dow Jones REIT ETF (RWR), and have a net expense ratio of 0.25%.