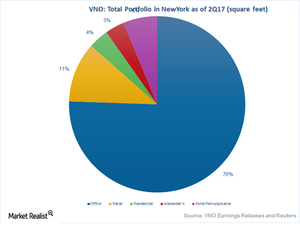 How Vornado's New York Office Segment Performed in 2Q17
2Q17 performance
Vornado Realty Trust (VNO) reported higher year-over-year top-line and bottom-line results during 2Q17 backed by higher rent growth, lower costs, and new leases during the quarter.
Vornado and peers like AvalonBay Communities (AVB), Boston Properties (BXP), and Equity Residential (EQR) are strategically repositioning their properties in Class A cities.
The iShares Cohen & Steers REIT ETF (ICF) invests 12.4% of its portfolio in Vornado and its REIT peers. ICF's wide product diversity cushions investors against macro headwinds.
Article continues below advertisement
Vornado has repositioned its assets in the high profile city of New York, which is currently experiencing high demand for office spaces, as there has been a spurt of new jobs in the region. This development could be attributed in part to Trump's pro-American policy, which has led to a slow and steady job market in the country.
Higher job growth helps boost demand
The Bureau of Labor Statistics reported that office-using employment in New York rose by 33,000 jobs in 2016. Further, the city has generated 15,000 office-using jobs in 1H17. The high job growth has sparked an increase in demand for office spaces. 9.8 million square feet were leased out during 2Q17.
Article continues below advertisement
Vornado all set to grow with job growth
Vornado is well positioned to tap this opportunity. Its assets are well placed in the region and consistent development of the properties have helped the company maintain demand for its products.
Its assets in the area are comprised of six buildings at premium locations, spread over an area of 6.5 million square feet. Occupancy in the New York office building segment remained flat at a high level of 96.7%. Renewals were high during the quarter, reflecting the high quality of the company's assets.
The company's Penn Plaza reported the highest activity during the quarter with 130,000 of area leased out. Average rent in the building started at $65 per foot. Other office buildings like 90 Park Avenue, 280 Park Avenue, 888 Seventh Avenue, and newly added 61 Ninth Avenue also reported robust leasing activities and occupancy during the quarter.