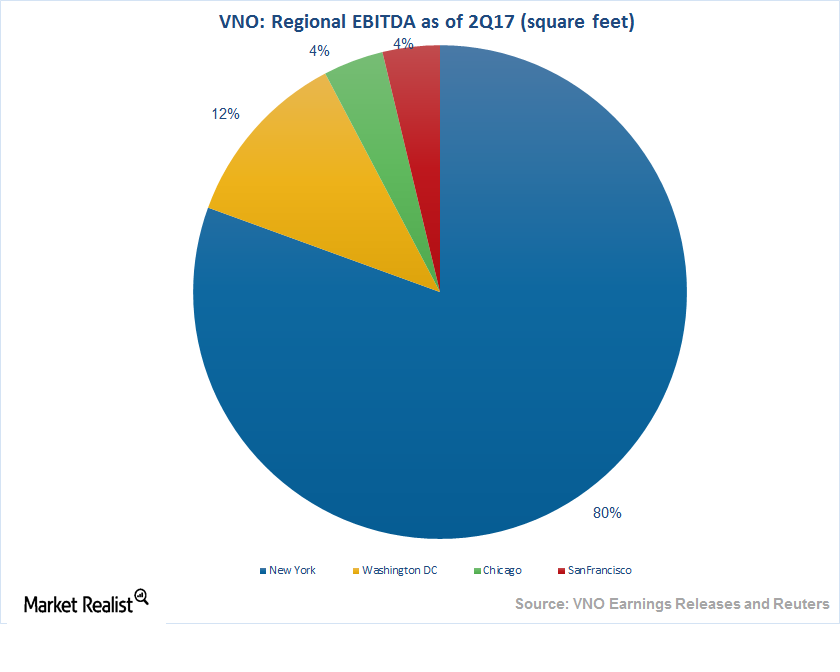 How Recent Disposition Activities Helped Vornado in 2Q17
How 2Q17 went for VNO
Vornado Trust's (VNO) top-line and bottom-line results improved year-over-year backed by higher rent growth and lower operational costs.
The company has periodically disposed of its underperforming assets and properties situated in low demand areas. It has repositioned its assets in the Class A city of New York, which has strong growth opportunities. New York is seeing significant job growth, thus boosting the demand for office spaces.
Article continues below advertisement
Recent sell-offs
As a part of this strategy, in 2Q17, Vornado sold its JBG Smith business in Washington, D.C. The business was subsequently merged with Washington-based real estate company JBG Companies. The spin-off has helped the company transform itself into an exclusively New-York-based company.
The company's peers like AvalonBay Communities (AVB), Boston Properties (BXP), and Equity Residential (EQR) are also resorting to dispositions in order to streamline their portfolio.
Investors can consider the iShares Cohen & Steers REIT ETF (ICF), which invests 12.4% of its portfolio in Vornado and its REIT peers. ICF's wide product diversity cushions investors against macro headwinds.
Vornado has sold off its Suffolk race track in Boston from a joint venture in which it held a 21.1% interest. Vornado realized cash proceeds of $50.8 million and also recognized a book gain of $26.7 million from the sale. Vornado intends to use the proceeds for loan repayment.
Further, Vornado plans to completely exit its joint ventures in India. The company plans to exit its operations in India in three transactions. Two of these have already closed.
Other dispositions made in 2016 worth mentioning are the sell-off of its 47% ownership interest in 7 West 34th Street and its Skyline properties located in Fairfax, Virginia. The company also spun off a 20% ownership interest in Fairfax Square for $15.5 million.
In the next article, we'll see how these dispositions helped the company generate higher income during 2Q17.