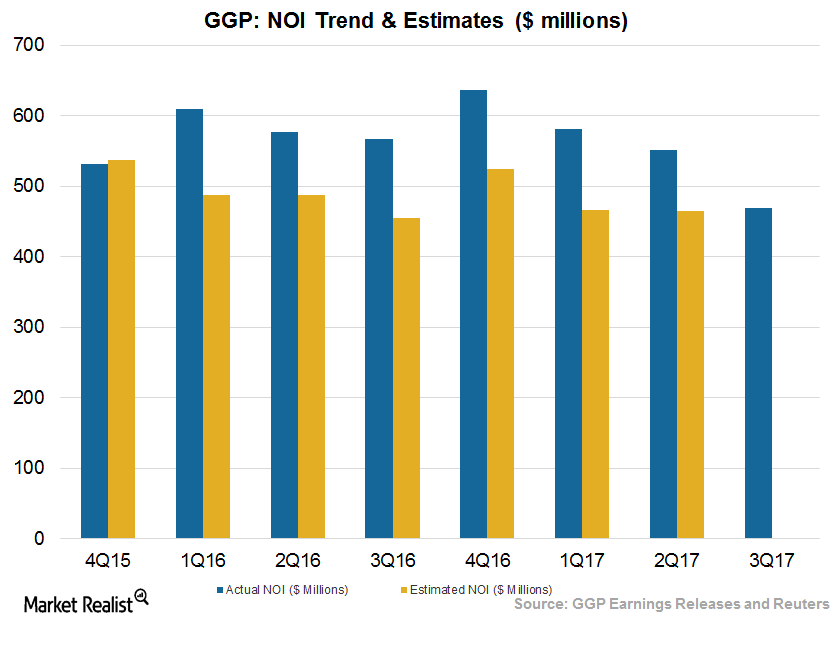 How GGP Managed Its Expenses in 2Q17
Income generated in 2Q17
In 2Q17, GGP (GGP) reported NOI (net operating income) of $551.0 million, which came in higher than the previous year at $554.0 million. The result also surpassed Wall Street estimates of $464.4 million during the period. GGP's same-store (NOI) rose 0.70% from the previous year.
The 1.3% rise in NOI was partially offset by mass store closures of retailers throughout US malls. If we exclude the $10.0 million effect of bankruptcy growth during the quarter, the rise in NOI during the quarter would be 3.0%. Same-store NOI rose.
GGP reported a rise of 1.1% in EBITDA (earnings before interest, tax, depreciation, and amortization).
Article continues below advertisement
Expenses in 2Q17
Expense growth was essentially flat during the quarter. However, real estate taxes increased during the period.
GGP undertakes large development and expansion projects in order to maintain its leadership in the commercial REIT industry. These entail massive costs that add up to the company's operating expenses. GGP spent almost $1.5 billion for development and redevelopment activities during the quarter.
Guidance
GGP expects net income attributable to GGP to be $0.11–$0.13 for the third quarter of 2017 and $0.58–$0.62 for 2017.
REITs such as GGP, Simon Property Group (SPG), Macerich (MAC), and Kimco Realty (KIM) may face higher costs of debt due to higher net interest expenses as the Fed raises interest rates.
The iShares Cohen & Steers REIT (ICF), which is comprised of almost 13.0% of the above REITs, have an average traded volume of 171,076 shares. It may rise due to robust results posted by the REITs in 2Q17.