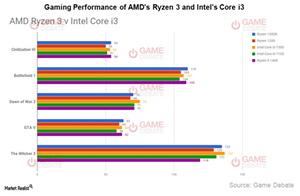 How AMD's Ryzen 3 and Intel's Core i3 Stack Up
Which is a better bargain?
Advanced Micro Devices (AMD) recently released its Ryzen 3 Series for the budget PC (personal computer) segment. AMD has a hold in the budget PC segment and competes with Intel (INTC).
Both AMD's Ryzen 3 with Intel's Kaby Lake Core i3-7350K are unlocked for overclocking and feature eight MB (megabyte) of L3 cache. Neither of the CPUs have simultaneous multi-threading, which means each core can only address one task. However, Ryzen 3 is still at an advantage, as it has four cores compared to the Core i3's two cores. The high core count advantage puts Ryzen 3 in the same bracket as Intel's more expensive Core i5 chips.
Ryzen 3 and Core i3 have their own advantages and disadvantages:
Article continues below advertisement
Core i3 has a clock speed of 4.2 GHz, but the speed cannot be boosted. Ryzen 3 has a speed boosting capability.
Core i3 has integrated graphics, but Ryzen 3 does not.
Core i3 only has two cores with no hyperthreading, whereas Ryzen 3 has four cores with four threads.
Core i3 has a power draw of 64 watts, whereas Ryzen 3 has a power draw of 67 watts.
Core i3 is more expensive than Ryzen 3.
Intel's Core i3 chips are better in single-threaded tasks, while AMD's Ryzen 3 chips are better in tougher environments.
What do third party reviews say about Ryzen 3?
Trusted Review reviewed Ryzen 3 and concluded that both Ryzen 3 chips outperform Intel's Kaby Lake Core i3 in multithreaded applications but underperform in single-threaded tasks.
Ryzen 3 delivers superior quality and higher frame rates in gaming, except simpler eSports titles that perform better in out-and-out clock speed. Ryzen 3 is about 30% faster than Core i3 on various games and benchmarks. At a cheaper price, AMD's Ryzen 3 offers better-multithreaded performance, comparable power efficiency, and higher speed in tougher games.
AMD is due to launch the mobile variants of all three Ryzen series in fiscal 2H17 and 1H18. Apart from CPUs, the company has also been working on its GPU (graphics processing unit) portfolio. It launched its first high-end Vega GPU on August 14, 2017, to compete with NVIDIA's (NVDA) high-end GPUs.
We will take a look at the new Vega GPUs in the next part.