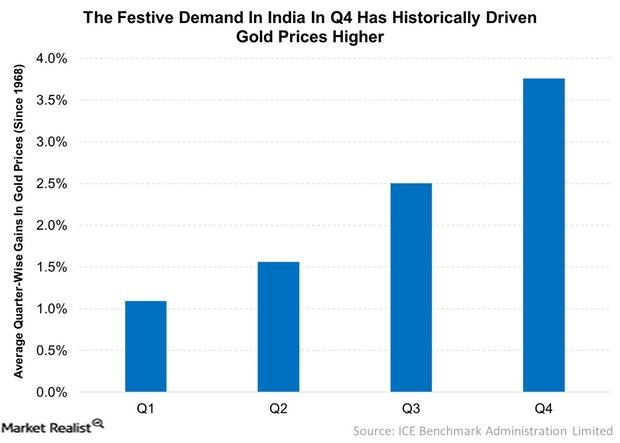 Gold Prices Could Test $1,300
VanEck
Gold stocks moved slightly higher with the gold price. For July, the NYSE Arca Gold Miners Index (or GDMNTR) gained 3.6% while the MVIS Global Junior Gold Miners Index (or MVGDXJTR) advanced 0.20%. Gold stocks advanced despite heavy redemptions in gold stock ETFs, a situation that parallels the curious July relationship between the rising gold price and the gold bullion ETP redemptions. Markets don't always do what is expected of them.
Article continues below advertisement
Recent Momentum Suggests that $1,300 is Likely to be Tested
While $1,200 has proven to be a resilient floor for gold, the price has yet to trend through the $1,300 per ounce level. Twice this year gold turned down as it approached $1,300. The recent upward price trend suggests $1,300 may soon be tested for a third time. Gold prices typically trend higher in the fall as seasonal physical demand improves. In terms of identifying catalysts that might enable gold to break through $1,300, the most obvious candidate is economic weakness that might persuade the Fed to take a more cautious stance. The Fed is expected to announce plans in September to reduce its massive crisis-era balance sheet and there could also be significant risks surrounding these plans.
Market Realist
The above graph shows the historical average quarterly gains in gold (OUNZ) prices. As the graph suggests, gold prices tend to rise in the fourth quarter of the calendar year. Gold prices have gained an unannualized ~3.8% in the fourth quarter. Festive demand for gold in India usually drives gold prices higher in the last three months of the year.
India is a colossal market for gold due to its demand for jewelry. Gold (IAU) is in higher demand in the fourth quarter because Indians buy more jewelry during the Dussehra and Diwali festivals. The spike will likely be a tailwind for gold prices as we enter the last quarter of the year.
However, if the Fed decides to trim down on its bloated balance sheet by selling bonds (TLT) it bought during the QE (quantitative easing) program, interest rates would likely rise. Higher interest rates would likely have a negative impact on gold prices.