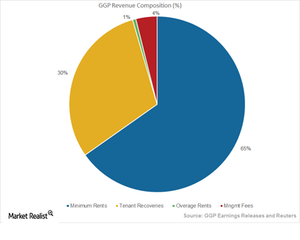 GGP's Revenue Rode High in 2Q17, Backed by New Leases
Lower rent marred 2Q17 revenue
As we saw in the previous part of this series, GGP (GGP) reported a fall in revenue of 3.3% during 2Q17. Although its revenue beat Wall Street estimates, lower results in most of its operating segments resulted in a year-over-year decline during the period.
GGP's minimum rent fell 3.9% to $349.2 million, and tenant recoveries fell 4.6% to $161.9 million. Overage rent fell 25.0% to $3.3 million. The falls in these segments were partially offset by a 10.2% rise in management fees and corporate revenues and a 13.3% rise in other revenue.
The company carries on expansions and leases new properties consistently. Its same-store leased area stood at 95.7%. Tenant sales rose slightly by 0.80% on a trailing 12-month basis.
Article continues below advertisement
NOI (net operating income) weighted sales per square foot rose 1.7%, backed by higher sales of non-apparel commodities. NOI weighted sales without apparel rose 3.1% to $906 per square foot. NOI weighted lease spreads rose 13.0% year-over-year. Lease spreads for new leases and transactions rose 18.0% year-over-year.
The online shopping craze
Amid the all-encompassing online shopping craze, retailers are suffering from dwindling traffic and declining sales. After suffering from lower sales for several quarters, many retailers have decided to shut down their stores. Mass closures of retail outlets throughout the country have resulted in vacant spaces at a large number of malls.
However, in light of US malls that seem to be dying, many mall owners have quietly evolved themselves. They have repositioned their properties into high-demand urban and suburban locations with premium lifestyle facilities.
GGP's peers in the commercial REIT space, including Simon Property Group (SPG), Macerich (MAC), and Kimco Realty (KIM), reported revenues of $1.4 billion, $247.4 million, and $292.8 million, respectively. All three of them surpassed Wall Street estimates.
These REITs make up almost 13.0% of the iShares Cohen & Steers REIT (ICF). ICF's broadly diversified portfolio helps investors against volatility. Its beta score stands at 0.52x.