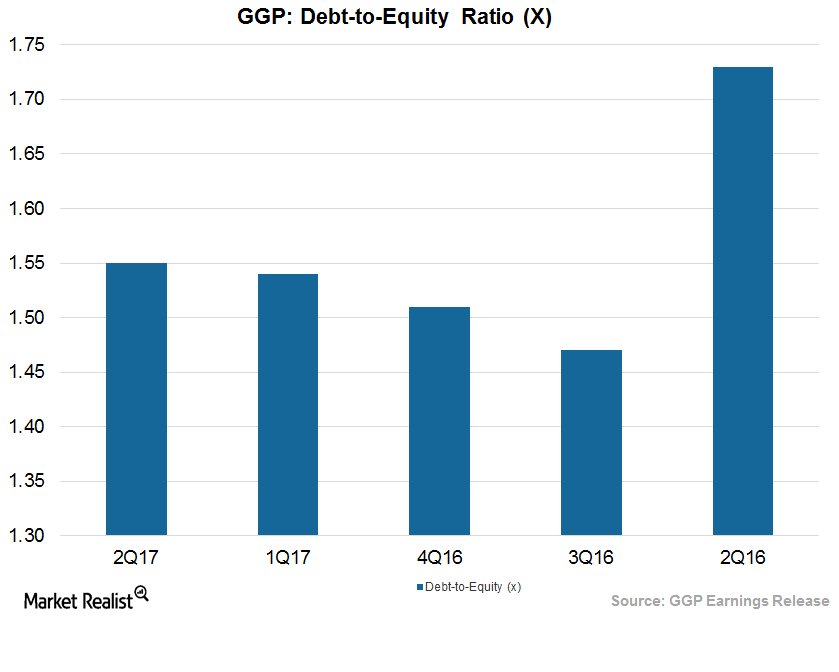 GGP Has High Debt-to-Equity Ratio as of 2Q17: Can It Be Lowered?
By Jennifer Mathews

Aug. 9 2017, Updated 10:37 a.m. ET
Debt formed a major part of GGP's capital
As we've seen, GGP (GGP) undertook several expansion and redevelopment projects in 2Q17 in order to maintain its share in the industry.
In order to maintain profits, mall owners have invested in remodeling the vacant spaces left by exiting retailers. REITs such as GGP, Simon Property Group (SPG), Macerich (MAC), and Kimco Realty (KIM) depend on debt and equity to fund their working capitals. However, increasing the debt level may result in higher costs as well as liquidation of the company. So REITs always try to leverage their balance sheets to an optimum level.
The iShares Cohen & Steers REIT (ICF) invests 13.0% in GGP and its peers. It has net assets worth $3.3 billion.
Article continues below advertisement
High debt-to-equity ratio
GGP maintained a debt-to-equity ratio of 1.55x for 2Q17. That was higher than the industrial mean of 1.07x. During 1Q17, GGP also maintained a high debt-to-equity ratio of 1.54x.
GGP ended the quarter with $2.0 billion of liquidity. The company has no more maturities due in 2017. Maturities due in 2018 amount to $500.0 million. Most of the maturities are weighted toward the second half of the year. Its net-debt-to-EBITDA (earnings before interest, tax, depreciation, and amortization) ratio for 2017 is expected to be less than 8.0x.
Higher interest expected for 2017
GGP expects an increase in interest expense of about $5.0 million for 2017 due to an increase in LIBOR (London Interbank Offered Rate).
Financing activities to improve leverage of balance sheet
The secured debt financing at the Mall of Lousiana generated proceeds of $325.0 million with an interest rate of less than 4.0%.
Refinancing of the Seritage property loan helped GGP obtain new loans. One of them was for $325.0 million with a maturity of ten years and an interest rate of 3.98%.
GGP also received a $320.0 million payment on a promissory note. These activities helped the company reduce its cost of debt as well as expand the terms of maturity of its loans.