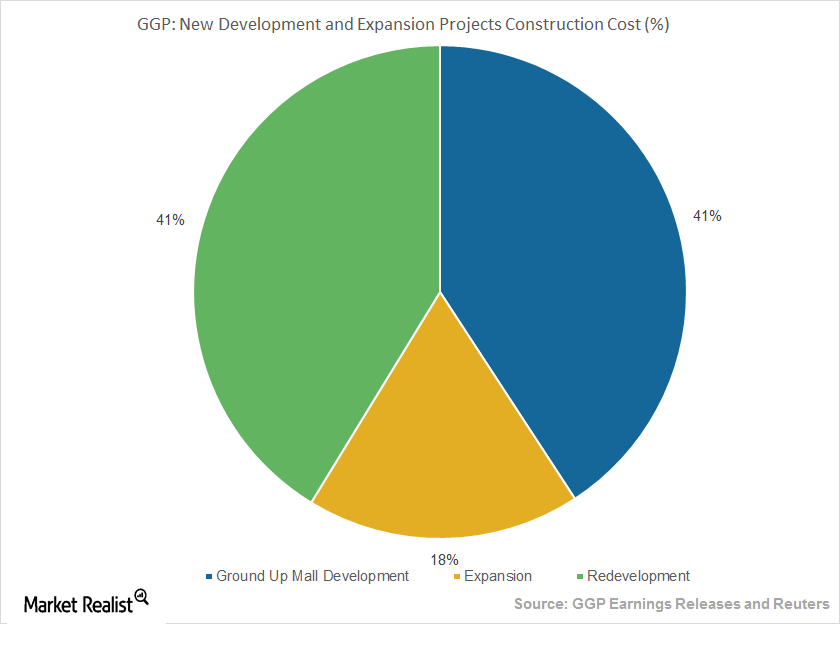 GGP Grew in 2Q17 Due to Development and Redevelopment
Redevelopment for non-retail use is the order of the day
As more and more consumers are resorting to online shopping due to the convenience, brick-and-mortar retailers are suffering due to dwindling volumes and declining traffic at their stores. As a result, many retailers have shut down their stores in order to maintain their profits. When retailers exit mall, mall owners are left with large vacant spaces and declining revenues.
However, amid the growing belief that US malls are dying, mall owners such as GGP (GGP), Simon Property Group (SPG), Macerich (MAC), and Kimco Realty (KIM) have quietly evolved themselves. They have repositioned their properties into high-demand urban and suburban locations with premium lifestyle facilities.
These REITs make up almost 13.0% of the iShares Cohen & Steers REIT (ICF). ICF's trailing 12-month PE (price-to-earnings) ratio stands at 13.01x.
Article continues below advertisement
GGP has redeveloped its vacant spaces for non-retail uses such as restaurants, entertainment zones, fitness centers, and grocery stores. It has invested a total of $1.5 million for its development and redevelopment activities. GGP has already completed projects worth $1.3 billion, and projects worth $0.20 billion are in the pipeline.
Acquisitions in 2Q17
In 2Q17, GGP acquired 100% of Neshaminy Mall in Bensalem, Pennsylvania. It also took over the Younkers anchor area in West Des Moines, Iowa. It increased its interest to 22.3% in the Miami Design District for $98.0 million. GGP also acquired a 10.0% partnership in 522 Fifth Avenue for $9.0 million.
GGP also took over a 50.0% interest in eight of the 12 assets of Seritage Growth Properties and acquired a 50.0% joint venture interest in five of its new properties.
GGP also disposed of non-performing as well as non-core assets in order to reduce costs and increase operating efficiency. It sold Red Cliffs Mall in St. George, Utah, which added approximately $39.1 million in proceeds to GGP. The company also disposed of its Lakeside Mall.