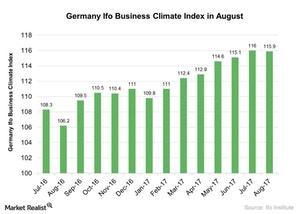 How Germany Ifo Business Climate Index Trended in August
Germany Ifo business climate index
According to the Ifo Institute, the Germany Ifo Business Climate Index stood at 115.9 in August 2017 as compared to 116 in July. The reading beat the market expectations of 115.5.
The Ifo Business Climate Index measures entrepreneurs' sentiments about the current business climate and expectations for the next six months. The confidence of participants in the manufacturing and construction industries improved in August compared to July. However, the sentiment of wholesalers and retailers fell during the month.
Article continues below advertisement
Manufacturing sentiment improved to 29.9 in August as compared to 29.5 in July, and construction sentiment improved to 17.3 in August as compared to 14.4 in July. However, wholesalers' sentiment dropped to 23.6 in August as compared to 24.2 in July. Retailer sentiment fell to 5.1 in August as compared to 11 in July.
Market impact
The iShares MSCI Germany ETF (EWG), which tracks the performance of the German economy, fell 0.2% so far in August 2017. Germany's DAX Index fell nearly 0.7% during the same period.
The business climate index has risen constantly since September 2016. Although it fell marginally in August, investors' sentiment remained higher. Germany is the powerhouse of the Eurozone (VGK) (IEV). Auto manufacturing and exports account for a major portion of Germany's GDP. Scandals in the automobile sector are marginally affecting the economic outlook.
In the next part of this series, we'll analyze the indicators that investors should watch next week.