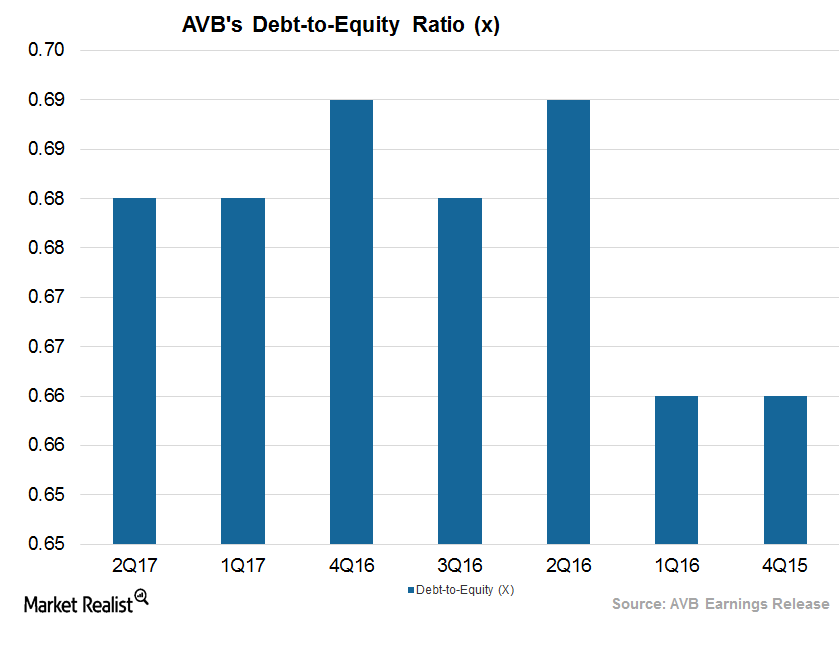 Financing Activities Leverage AvalonBay's Balance Sheet in 2Q17
Performance in 2Q17
AvalonBay Communities (AVB) has undertaken several development, redevelopment, and expansion projects to maintain its share in the market. It invested $400 million in new developments during the quarter. REITs such as UDR (UDR), Essex Property Trust (ESS), and Equity Residential (EQR) fund these activities with the help of debt and equity. Therefore, proper balance sheet leverage is of utmost importance.
The SPDR Dow Jones REIT ETF (RWR), of which the aforementioned stocks form 13%, has net assets worth $3 billion. AvalonBay maintained a debt-to-equity ratio of 0.68x in 2Q17, lower than the industrial mean of 1.x. In 1Q17, the company's debt-to-equity ratio was 0.68x.
Article continues below advertisement
AvalonBay's net debt-to-core EBITDA (earnings before interest, tax, depreciation, and amortization) ratio for 2Q17 was 5x. The company incurred net interest expenses of $50.1 million during the quarter, and its interest coverage stood at 6.7x. As of 2Q17, AvalonBay held $293.2 million in cash, including $113 million in cash from dispositions.
Financing activities improved balance sheet leverage
AvalonBay has access to debt at attractive rates. In 2Q17, AvalonBay paid off $1.2 billion in secured debt and refinanced it with long-term unsecured debt of ten- and 30-year maturities. AvalonBay raised $1.5 billion of external capital in 2017 and plans to procure an additional $400 million in the upcoming months of fiscal 2017.
So far this year, the company has reduced the weighted average interest rate by 150 basis points, and extended the average maturity level to ten years. AvalonBay has outstanding debt of $200 million, due in 2020.