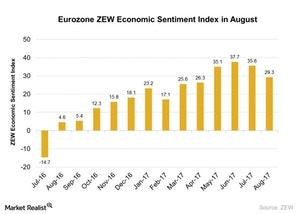 Eurozone ZEW Economic Sentiment Fell after a Year
Eurozone ZEW Economic Sentiment Index
According to a report by the Centre for European Economic Research (ZEW), the Eurozone ZEW Economic Sentiment Index fell to 29.3 in August—compared to 35.6 in July. It didn't meet the market's expectation of 34.2. It was the huge drop in performance after a year of gradual improvements.
The index measures economists' confidence level about the current economic situation and the Eurozone's (VGK) (IEV) (EZU) expected economic scenario for the next six months. The index touched an all-time high of 89.9 in January 2000 and hit a record low of -63.7 in July 2008.
The ZEW Economic Sentiment Index has shown a gradual improvement since July 2016. The index fell in July and its performance saw a huge drop in August. The weaker performance was mainly due to the fall in consumer activity in the economy. Its 2Q17 earnings figure also wasn't impressive.
The Eurozone's inflation posted a weaker figure in July 2017. In 2Q17, economic growth was also impacted by the stronger euro (FXE). All of these factors are dragging down economists' confidence in the economy.
Article continues below advertisement