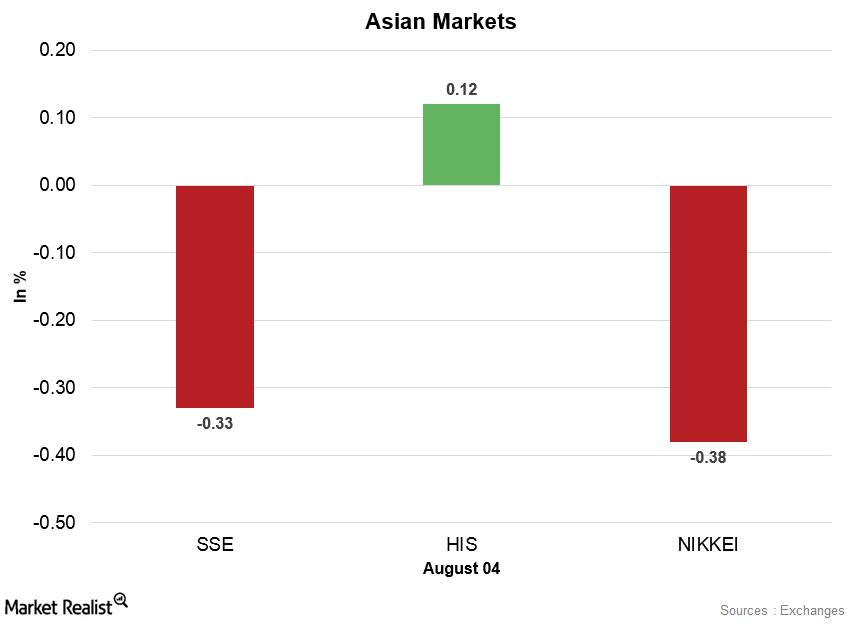 Asian Markets Were Weak on August 4, Decreased Risk Appetite
Economic calendar
8:30 AM EST – US average hourly earnings (July)
8:30 AM EST – US non-farm payrolls (July)
8:30 AM EST – US participation rate (July)
8:30 AM EST – US trade balance (June)
8:30 AM EST – US unemployment rate (July)
1:00 PM EST – US Baker Hughes oil rig count
Article continues below advertisement
China
After gaining for six consecutive trading weeks, China's Shanghai Composite Index started last week on a stronger note. The strong manufacturing and services PMI data helped China's Shanghai Composite Index gain in the first two trading days last week. The market pulled back in the later part of the week amid dented market sentiment and profit-booking. Despite pulling back, the Shanghai Composite Index closed the seventh consecutive week in gains.
The market is looking forward to the release of exports, imports, trade balance, and inflation data scheduled to release this week. On August 4, the Shanghai Composite Index fell 0.33% and ended the day at 3,262.08. The SPDR S&P China ETF (GXC) fell 0.05% to $96.77 on August 3.
Hong Kong
After pulling back on August 3 and closing the day flat, Hong Kong's Hang Seng Index started Friday higher and closed the day almost flat with limited gains. The risk appetite in Hong Kong's market fell on Friday as the market awaits US jobs data. Political uncertainty in the US also weighed on Asian markets. With support from the financials and resources sectors, the Hang Seng Index gained for the fourth consecutive trading week. The Hang Seng Index rose 0.12% and closed the day at 27,562.68. The iShares MSCI Hong Kong ETF (EWH) rose 0.37% to $24.62 on August 3.
Japan
After pulling back from the highest levels in almost two weeks on Thursday, Japan's Nikkei Index opened lower on Friday and closed the day below the important level of 20,000. The strong yen and caution ahead of the US jobs report weighed on the Nikkei Index. It fell 0.38% and closed the day at 19,952.33.
In the next part, we'll discuss how European markets performed in the morning session on August 4.