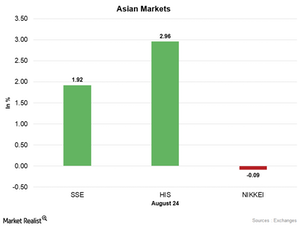 Asian Markets Rose in the Week Ending on August 25
By Val Kensington

Updated
China
After regaining strength last week, China's Shanghai Composite Index continued to gain in the week ending on August 25. Last week, the Shanghai Composite started higher amid the improved global sentiment. With no major economic data released last week, the global sentiment had a major impact on the Shanghai Composite Index.
The Shanghai Composite Index lost momentum on Tuesday but closed at three-week high price levels. The market remained range bound on Wednesday amid the mixed market sentiment. Increased buying in the financial sector supported the market on August 23 but the sell-off in the material sector weighed on the market. Doubts about steel prices' sustainability weakened the sentiment in the materials sector in the middle of the week. The market lost strength on Thursday amid the decreased risk appetite ahead of central bankers' speeches at the Jackson Hole symposium.
The market regained strength on Friday amid stronger-than-expected earnings data. The rally in the financials and resources sectors pushed the Shanghai Composite Index to the highest levels in 20 months. The SPDR S&P China ETF (GXC) rose 3.7% last week and closed at 100.19.
Article continues below advertisement
Hong Kong
After trading with mixed to weak sentiment for two consecutive trading weeks, Hong Kong's Hang Seng Index regained strength last week. The Hang Seng Index started higher last week and rose on Monday and Tuesday amid support from Chinese developers and signs of improved sentiment on Wall Street. The markets were closed on Wednesday due to a typhoon. The Hang Seng Index remained stable at two-week high levels on Thursday amid the decreased risk appetite ahead of central bankers' speeches. Continuing the strength, the market rose on Friday amid a rally in Asian markets. The market closed the week at the highest levels since May 2015. Last week, the iShares MSCI Hong Kong Index (EWH) rose 1.8% and closed at 24.46.
Japan
Japan's Nikkei Index started last week on a weaker note after falling for five consecutive trading weeks. The mixed global sentiment and Japan's weaker industry activity data weighed on the Nikkei Index on Monday. After falling in the first two trading days last week, the Nikkei regained strength on Wednesday amid upbeat manufacturing data and a rally on Wall Street. On Thursday, it lost strength amid the dented global sentiment and profit booking. The Nikkei Index staged a brief recovery on Friday amid a rally in Asian markets. However, it fell for the sixth consecutive week.
The iShares MSCI Japan Index (EWJ) fell 0.17% to 54.36 last week.
In the next part of this series, we'll see how European markets performed in the week ending on August 25, 2017.