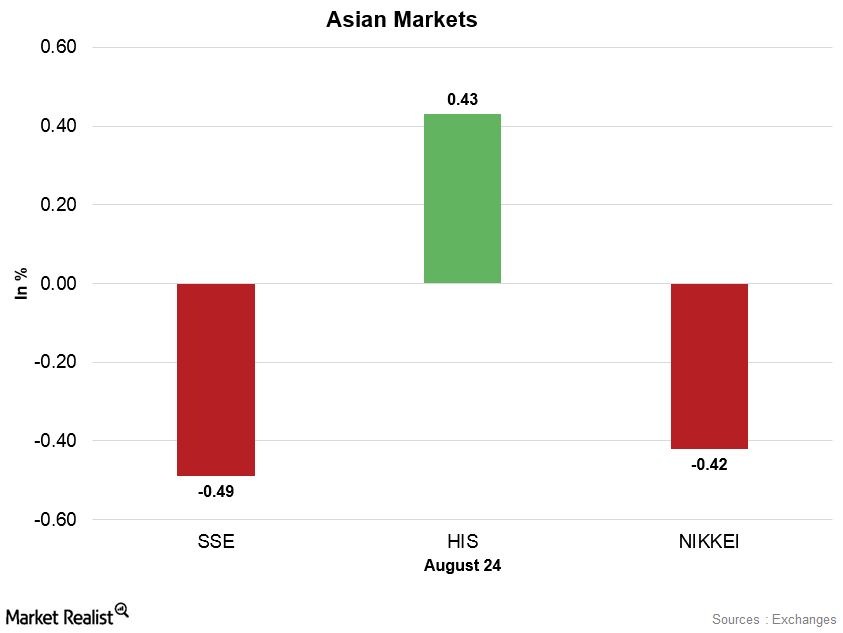 Mixed Asian Markets, Shanghai Composite Fell the Most in 2 Weeks
By Val Kensington

Aug. 24 2017, Published 9:47 a.m. ET
Economic calendar
8:30 AM EST – US initial jobless claims
10:00 AM EST – US existing home sales (July)
7:30 PM EST – Japan's National Core CPI (consumer price index) (July)
7:30 PM EST – Japan's Tokyo Core CPI (August)
Article continues below advertisement
China
China's Shanghai Composite Index started this week on a stronger note after regaining strength last week. However, it consolidated on August 22–23 amid mixed market sentiment and less momentum. On August 24, the Shanghai Composite started the day on a weaker note and fell as the day progressed.
The Shanghai Composite fell the most in two weeks on Thursday amid the decreased risk appetite ahead of the Jackson Hole symposium. The three-day annual meeting is for economists and central bank members. Global market participants will watch the meeting closely for policy signals. In addition to the decreased risk appetite, Unicom's fall on Thursday amid profit-booking also weighed on the Shanghai Composite Index.
The market is looking forward to the release of China's manufacturing PMI data scheduled to release next week. On August 24, 2017, the Shanghai Composite Index fell 0.49% and ended at 3,271.51.
Hong Kong
Hong Kong's Hang Seng Index fell for two consecutive trading weeks but regained strength this week by opening higher on Monday and rising for the first two trading days of the week. Hong Kong's markets were closed on Wednesday because of a typhoon. On Thursday, the Hang Seng Index opened higher and closed the day in profits amid support from strong financials and property stocks. On August 24, the Hang Seng Index rose 0.43% and closed the day at 27,518.60.
Japan
Japan's Nikkei Index started this week on a weaker note and continued its five-week losing streak. The index fell in first two trading days this week. It staged a brief recovery on Wednesday amid supporting manufacturing data. On Thursday, it opened the day lower amid weakness in Wall Street and ended the day in losses. In addition to the weak sentiment, weakness in the steel, gas and water, and transportation equipment sectors also weighed on the market. The Nikkei Index closed the day at 19,353.77—a fall of 0.42%.
In the next part of this series, we'll see how European markets performed in the morning session on August 24, 2017.