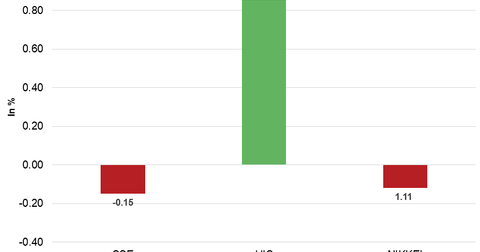 Asian Markets Were Mixed on August 16, China Pulled Back
By Val Kensington

Updated
Economic calendar
8:30 AM EST – US building permits (July)
8:30 AM EST – US housing starts (July)
10:30 AM EST – US crude oil inventories
2:00 PM EST – US FOMC meeting minutes
7:50 PM EST – Japan's adjusted trade balance
7:50 PM EST – Japan's exports and imports (July)
7:50 PM EST – Japan's trade balance
Article continues below advertisement
China
After gaining for seven consecutive trading weeks, China's Shanghai Composite Index fell last week. Despite weak economic data, the index rebounded on Monday and started this week on a stronger note. Continuing the strength, the Shanghai Composite Index rose on Tuesday but lost momentum on Wednesday.
Slower loan growth in July triggered profit-booking in Chinese markets. Weaker-than-expected July economy data raised concerns about the outlook for China's economy in the second quarter. Weakness in materials stocks weighed on the market on Wednesday. On the other hand, the market is looking forward to the release of China's house prices data on August 17.
On August 16, 2017, the Shanghai Composite Index fell 0.15% and ended at 3,246.45.
Hong Kong
After falling for two consecutive trading days and pulling back from two-year high price levels, Hong Kong's Hang Seng Index regained strength on August 14, 2017, and started the week on a stronger note. Despite losing momentum on Tuesday, the Hang Seng Index opened higher on Wednesday and trended upwards. Stronger-than-expected earnings pushed the Hang Seng Index higher on Wednesday, while weakness in Chinese markets limited the upward movement. On August 16, the index closed the day at 27,409.07 with a gain of 0.86%. The iShares MSCI Hong Kong (EWH) fell 0.53% to $24.22 on August 15.
Japan
After falling for four consecutive trading weeks, Japan's Nikkei Index started this week on a weaker note. Despite the global rebound of stocks and supporting economic data, the Nikkei was subdued on August 14. Despite a slow start to the week, the Nikkei rose on Tuesday amid the weaker yen and supporting economic data. On Wednesday, the Nikkei Index remained range bound amid weakness in the chemical, petroleum and plastic, and mining sectors. The Nikkei Index closed the day at 19,729.28—a fall of 0.12%.
In the next part of this series, we'll see how European markets performed in the morning session on August 16, 2017.