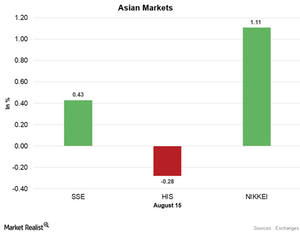 Asian Markets Buoyed by Increased Risk Appetite
By Val Kensington

Updated
Economic calendar
8:30 AM EST – United States Core Retail Sales (July)
8:30 AM EST – NY Empire State Manufacturing Index (August)
8:30 AM EST – U.S. Business Inventories (June)
Article continues below advertisement
China
After gaining for seven consecutive trading weeks, China's Shanghai Composite Index fell last week. But despite weak economic data, the index rebounded on Monday and started this week on a stronger note. Continuing the strength, Tuesday began with a strong sentiment and rallied higher.
Decreased concerns over the geopolitical tensions between North Korea and the United States increased the risk appetite in the market and supported the movement in the Shanghai Composite Index on Tuesday. The rally was led by banking stocks. According to China's banking regulator, the profits of commercial banks in the first half of 2017 rose 8.0% year-over-year. This improved market sentiment and supported banking stocks. On the economic data front and according to the Peoples Bank of China, China's new loans surged to 825.5 billion yuan in July, which is higher than the market's expectation of 800.0 billion yuan.
On August 15, 2017, the Shanghai Composite Index surged 0.43% and ended at 3,251.26.
Hong Kong
After falling for two consecutive trading days and pulling back from two-year high price levels, Hong Kong's Hang Seng Index regained strength on Monday, August 14, 2017, and started the week on a stronger note. Despite opening higher on Tuesday, the index lost strength and fell due to a sell-off in the energy sector. The losses were limited by strength in the banking sector. On August 15, the index closed the day at 27,174.96 with a loss of 0.28%. The iShares MSCI Hong Kong (EWH) rose 0.87% to $24.35 on August 14.
Japan
After falling for four consecutive trading weeks, Japan's Nikkei Index started this week on a weaker note. Despite the global rebound of stocks and supporting economic data, the Nikkei was subdued on Monday, August 14. But the index opened higher on Tuesday and rose further as the day progressed, aided by a weaker yen and supporting economic data. According to data released by the Ministry of Economy, Trade, and Industry, Japan's industrial production rose 2.2% in June, which is higher than the 1.6% growth forecast by the market. The Nikkei Index closed the day at 19,753.31, a rise of 1.1%. In the next part of this series, we'll see how the European markets performed in the morning session on August 15, 2017.