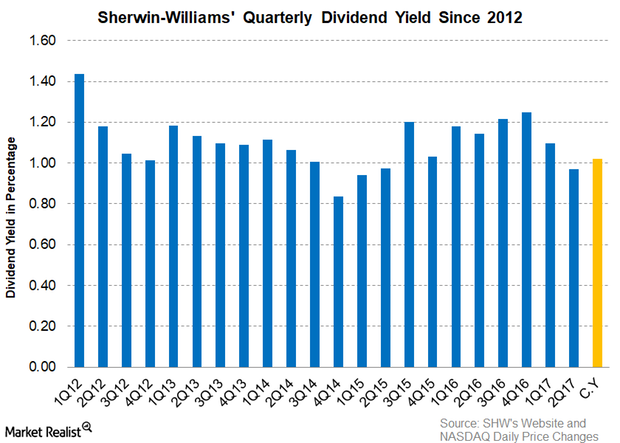 Sherwin-Williams' Dividend Yield and Dividend Payout
Sherwin-Williams' dividend yield
Generally, long-term investors will look for consistent and regular companies that preferably pay a high dividend yield for their investments. A dividend yield gives investors a measurement of return. They get a return for every dollar invested in a company's equity. Sherwin-Williams didn't make any changes to its quarterly dividend rate. As a result, we can expect its fiscal 2017 dividend to be $3.40 per share.
Article continues below advertisement
Since 2012, Sherwin-Williams' dividend yield has primarily remained in the range of 0.90%–1.40%. Sherwin-Williams' dividend has grown at a CAGR (compound annual growth rate) of 16.90%, while its stock price has almost tripled. As a result, Sherwin-Williams' dividend yield has been range bound. Sherwin-Williams' current dividend yield is lower than the yield on one-year Treasury bonds—a difficult composition for new investors. Sherwin-Williams might have to increase its dividend aggressively to attract new investors looking for a stable dividend.
Dividend payout
Sherwin-Williams' dividend payout has been on a falling trend. In 2012, Sherwin-Williams' dividend payout was 37%. By the end of 2016, the dividend payout fell to 30.10%. The fall in the dividend payout is primarily due to Sherwin-Williams' net income growth outpacing the dividend growth. A lower payout ratio means higher net income retention, which could help the company finance its future expansion plans.
Investors looking for indirect exposure to Sherwin-Williams can invest in the Vanguard Materials ETF (VAW). VAW has invested 3.30% in Sherwin-Williams as of August 29, 2017.
In the next part, we'll discuss analysts' recommendations.